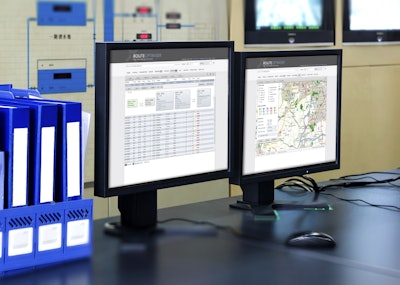 Omnitracs, a fleet management solutions provider, announced at its third annual user conference, Omnitracs Outlook 2017, an integrated Routing, Dispatching and Compliance (RDC) system.
RDC combines routing, dispatching, trip management, proof of delivery, Hours of Service and Driver-Vehicle Inspection Report (DVIR) compliance. The offering brings together the best of Omnitracs' Roadnet Anywhere and XRS applications, and is available on mobile devices for drivers and through a single management portal to fleet operators.
"Many fleets find it very difficult to effectively balance needs around route efficiency, driver safety and compliance, and customer service," said Kevin Haugh, chief strategy and product officer at Omnitracs. "In fact, fleets can easily be pursuing actions that are at cross purposes. For example, developing route plans that fail to fully account for potential negative compliance effects — such as creating hours of services issues. With RDC, managers and drivers can easily balance their business needs by having a comprehensive perspective on all aspects and the ability to quickly make adjustments as needed."
Features of RDC include route planning/optimization, telematics to monitor driver and vehicle behaviors, a driver mobile platform with electronic logs, trip management and proof of delivery. It also includes a web-based management platform that has dispatching, Hours of Service and DVIR compliance, and driver score carding.