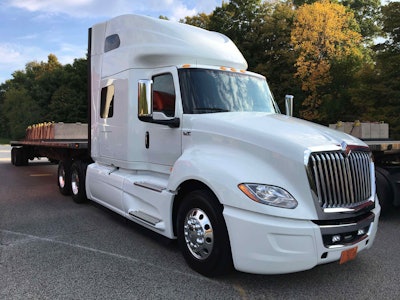 Barely more than six months after its initial launch, the impact of International's LT Series long-haul tractor is already being felt.
Navistar Chairman President and CEO Troy Clarke says more than 5,000 orders have been placed for the truck that will phase out the company's ProStar this year, adding that about 2,500 of them were delivered in the last three months.
Clarke says the LT Series has also helped unlock the doors of several large private carriers, and quoting activity is on the rise.
"We've got customers talking to us who haven't talked to us for the better part of this decade, and they are interested in not just our story, but they are interested in what our products can do for their business," he says.
"For instance in 2016, we quoted 20 of the Top 50 customers in the market. With the largest customers, we quoted 20 percent more of them than we did the previous year. We got awarded 50 percent more than we did the previous year."
Clarke says he expects order intake for LT trucks equipped with the Cummins X15 engine to continue to exceed comparable ProStar figures for prior years, and is hopeful the launch of the company's new 12.4 liter engine will be timed with a mid-year recovery in truck demand.
"We've really been kind of non-existent in that 13-liter segment and it has remained 50 percent – and growing – of the on highway market," he says.
"Interest in our new LT product is up. I was at TMC last week and definitely there were people in and out of the truck all the time with very favorable comments. And these are the people who really make buying decisions and maintenance decisions. So we are very excited about that."