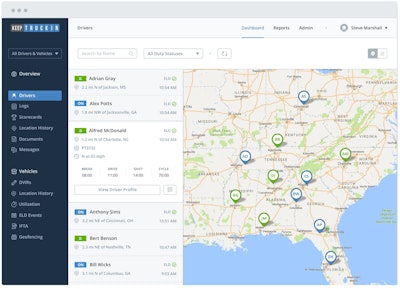 HR Resource Force, a provider of enterprise-level Employee Health and Safety (EHS) management software, announced a formal partnership with KeepTruckin to provide its clients in the transportation industry with electronic logging devices and GPS tracking solutions.
HR Resource Force helps companies find useful applications for governance, risk management, Human Resource and compliance technology. The partnership allows its customers to purchase KeepTruckin's ELD products at no additional cost, giving them an extra layer of support, advocacy, data integration and access to best practice compliance management processes.
The partnership will help transportation companies stay compliant ahead of the ELD mandate and provide data that can feed into their back office functions that are managed or integrated for risk management, driver scorecards, accident/incident management, training, disciplinary action, dispatch and more.
In addition, customers can track vehicles in real-time and view their breadcrumb location history for any day in the past, automate IFTA fuel tax reporting by tracking the distance vehicles travel in each jurisdiction, actively monitor vehicles for fault codes and alerts, and allows geofencing, messaging and more.
"The challenges we see most are a fleet's ability to smoothly adopt technology in a way that adds value and then to integrate the technology with other systems in use," said Nick Goodell, managing partner at echo-bell, the legal entity that owns HR Resource Force. "To realize value from a risk management perspective, the systems should work together and align with an overall data management strategy."
Goodell adds, "Making appropriate decisions based on clean data from the truck and driver is critical in this competitive industry."