Fleet owners and executives are always looking for ways to reduce accidents and protect their drivers and assets from plaintiff attorneys.
It's no wonder, then, why video-based driving event recorders — which are often implemented as a subscription package that includes wireless connectivity, reporting and analysis — are a hot commodity in the transportation industry.
Lytx, for example, recently announced that its DriveCam system is active in more than 400,000 vehicles, of which 101,000 were new subscriptions sold in 2016.
Besides using the technology to improve fleet safety, motor carriers are able to realize dividends in the realm of compliance by reducing violations in the Unsafe Driving BASIC of the Compliance, Safety, Accountability program.
American Central Transport (ACT) has seen its CSA scores steadily improve since it began using the Lytx DriveCam program in the latter half of 2014.
The Kansas City, Mo.,-based truckload carrier deployed the DriveCam system in all of its company trucks throughout 2015 as they came in for maintenance services.
Some of its contractors were slow to adopt the new technology, however. In the summer of 2015, management announced an incentive of $0.02 extra per mile to drivers who were using the system.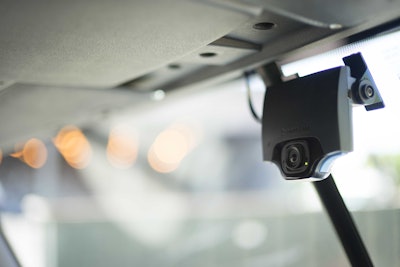 Despite the incentive, a few contractors continued to hold out on the technology. In early 2016 management required the remaining drivers to meet with the CEO of the company, Tom Kretsinger, one on one. After the meeting they either had to go directly to the shop and get a DriveCam installed or terminate their contract.
"Out of that group, we had very few leave us," says Brandon Leininger, director of risk management for ACT. "Most of them, once they had the meeting with Tom, said 'go ahead and put it in.'"
Today, ACT operates over 300 trucks, a majority being company drivers.
The violations in the Unsafe Driving BASIC where ACT has seen a positive impact from using the DriveCam program are:
Texting and using a hand-held cell phone: Every three months, Lytx conducts a quarterly review with ACT. The review process shows areas where the company is performing well and where it can improve.
ACT uses the information to conduct a focused quarterly safety campaign, he says.
In 2016 it ran a campaign on the dangers of texting. In the first quarter of 2017 it has been running a campaign on the risks of using and interacting with handheld electronic devices, including cell phone and GPS devices.
Drivers that have a handheld violation, as shown within the DriveCam system, are required to meet with management. A second violation within six months will result in termination of employment/termination of contract.
Speeding: ACT has its company trucks governed at 65 mpg on cruise control and 62 mph on the pedal. Speed is stamped on the DriveCam events and that behavior is coached in addition to the event captured.
Reckless driving: At a minimum, drivers that exhibit aggressive driving behaviors are coached and then monitored for repeat offenses. Before DriveCam, ACT had to rely on complaints by motorists to catch aggressive driving behaviors. These behaviors were difficult to verify.
Inattention: ACT uses forward and inward facing event recorders. The inward facing event recorder captures any number of distractions that occur when driving such as eating, looking at maps and more.
ACT has a weekly management scorecard that includes the company's CSA performance in the Unsafe Driving BASIC and other areas. Mr. Leininger says ACT has seen its Unsafe Driving score trend down overall since it began using DriveCam.