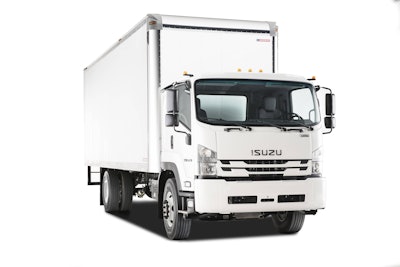 Isuzu Commercial Truck of America announced Tuesday at the Work Truck Show in Indianapolis that production on its all-new entry in the Class 6 medium-duty truck segment – the 2018 Isuzu FTR—will begin in May.
The F-Series truck will be assembled at a new 85,000-square-foot Spartan Motors facility in Charlotte, Mich., and will have a starting manufacturer's suggested retail price of $82,180.
Orders for the truck will be accepted beginning of April, 2017.
Shaun Skinner, president of Isuzu Commercial Truck of America, says the truck's combination of low-cab-forward design and Class 6 GVWR increases maneuverability and visibility and gives it the ability to carry more cargo than a conventional Class 6 truck.
Eight wheelbase lengths, ranging from 152 to 248 inches, accommodate bodies from 14 to 30 feet and FTR's low-cab-forward design also dramatically increases visibility and improves maneuverability with an inner 50-degree wheel cut.
The FTR is powered by Isuzu's 4HK1-TC 5.2-liter turbocharged four-cylinder diesel engine – a segment first.
"We believe that more and more competitors in this class will be turning to four-cylinder engines, because they are cleaner and more efficient," Skinner says.
The engine also carries a B-10 durability rating of 375,000 miles, an increase of 65,000 miles from the engine's previous 310,000-mile B-10 rating. The new rating means 90 percent of engines should reach 375,000 miles before requiring an overhaul.