Video event recorders are the fastest-growing fleet management technology for a reason: they capture clear evidence of risk and liability to train and exonerate drivers.
Another benefit may not be so obvious: the technology can be used to train driver managers to be leaders.
This was an underlying theme during discussions that took place at the Lytx user conference in San Diego, Mar. 13 to 15, at the Paradise Point resort.
About 300 fleet safety officers attended the event. A number described how the technology has made their driver managers effective coaches, which might be the most desirable job skill one can have in the transportation industry today.
Lytx customers are fleets that use the DriveCam video-based safety platform. The most visible component of the platform, at least to drivers, is the inward and forward-facing video event recorder mounted to the windshield.
The device records video and data in a continuous loop. Software algorithms in the device detect risky behaviors or patterns like speeding, rapid deceleration, swerving, drowsy and distracted driving.
When these trigger events are detected the device saves a 12-second audio, video and data record (8 seconds before and 4 seconds after). The record is sent to Lytx servers in the cloud using wireless (cellular or Wi-Fi) communications, and is later reviewed by trained analysts that identify additional behavior and environmental risk factors.
Managers use an online portal to review clips of the events along with various reporting and analytical tools that are part of a refined workflow process for coaching drivers.
The defining moment
At Dean Foods, the Lytx DriveCam system has "empowered front line managers" to become leaders, especially those who come to that position from being a former driver, said Michael Miller, the company's vice president of environment, health and safety.
"They were not leaders, but the emphasis on coaching has made them better leaders," he said.
Dean Foods is the eight largest food and beverage company in the United States. The decision to implement the DriveCam program happened in 2014 after a high-profile accident that involved one of its drivers in Houston.
The driver was distracted talking on a cell phone with a hands-free Bluetooth headset. He ran into a Ford Focus and killed a woman.
The company had a policy that drivers not use any devices while in motion.
"That was a defining moment. We knew we had to do more around distracted driving," he said. The company now has 5,200 DriveCam units installed in its private fleet.
Miller shared comparative, year-over-year results from the fourth quarter of 2015 to the same period in 2016. Dean Foods reduced collisions by 15.5 percent, near collisions by 54 percent, and event frequency by 43 percent in that timeframe.
Leadership development
Other attendees at the Lytx conference shared similar insights about how the Lytx DriveCam has become a training platform for managers to develop coaching skills.
MHC Kenworth, a full service dealership network with over 100 locations across 16 states, has DriveCam technology installed in its vehicles that deliver parts and its vehicles for salespeople.
The DriveCam system forces managers to "deal with behaviors that have to be corrected," said Adrian O'Hara, director of safety and risk management for the Leawood, Kan.-based company. "It is a great training ground for managers."
Rather than have safety managers do the coaching, O'Hara and other attendees said driver managers do the safety coaching as part of their overall operational duties.
Elizabeth Shifflett, a regional environment, health and safety manager for Pepsi National Brands, described the company's coaching strategy as that of positive reinforcement.
The private, family-owned Pepsi distributor has 3,500 employees and 16 distribution centers in the New England region with 750 DriveCam units installed.
"We get to support driver efforts to improve," she said. "The conversation with drivers is 'what needs to happen to help you improve?' We come at it with positive reinforcement."
A better workspace
During the conference, Lytx demonstrated a new, redesigned version of its online portal, DriveCam Enterprise Workspace.
With the redesign Lytx has simplified how users go through the workflow. The new design is "all about changing behavior," said Kristin Costas, product lead at Lytx. "It's really important that driver behavior can get changed through coaching."
"There is a lot we can do with the software itself to address behavior," she continued. "Through software we can get people to do the things you want them to do. We used a lot of behavioral science in the design, not only to get drivers to change, but to get coaches to do the things we want them to do in a meaningful way."
A demonstration of the new product showed numerous improvements to the coaching process, with an overall goal to create "more results with less effort," explained Brandon Nixon, the chairman and chief executive officer of Lytx.
The new DriveCam Enterprise Workspace is built on HTML 5 with a responsive design that scales the interface automatically to any device and screen size.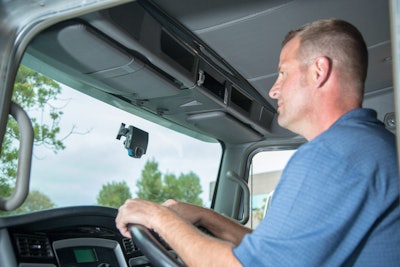 It has new features that make it easy for users find what they are looking for, Costas demonstrated. The coachable events and other information are presented using objects called "cards" that show a lot of data in a simple way.
The new platform has a new Driver Profile screen that gives managers more context and information to be effective coaches, she said. It also has new features to track their effectiveness.
Costas said that Lytx customers can choose to roll out the new platform in stages and turn on new features that make sense for their businesses.
Revamped scoring
Lytx also demonstrated a new scoring system for risky driving behaviors. The system organizes behaviors into categories and uses a time-weighted score for the last 30 days. Behaviors that happened 20 days ago, for example, subtract fewer points from a driver's score than behaviors that occurred yesterday.
The new points system has also been revamped to show the relative collision risks of behaviors based on Lytx' ongoing analysis of its now more than 70 billion miles of observable driving data.
Some of the behaviors deduct more points when observed in combination such as turning a corner when holding a handheld device.
Coaching guidelines
Victor Malchesky, corporate director of safety and compliance at Swift Transportation with 12,000 DriveCam units installed, said the company has 400 driver managers that are coaches.
Before using the technology, Swift had a difficult time having meaningful conversations with drivers about specific items they could act on to improve their safety.
"You have that benefit with video," he said. He described the simple 4-step coaching guidelines that Swift driver managers use as part of the DriveCam program:
Show drivers that you care.
Be specific and focus on the training methods, not on who is right or wrong.
Make it a conversation and not a disciplinary process.
Get a commitment from drivers to change.
Included in the new DriveCam Enterprise Workspace system are video learning modules that give coaches tips for how to talk to drivers about certain behaviors and how they can change those behaviors.