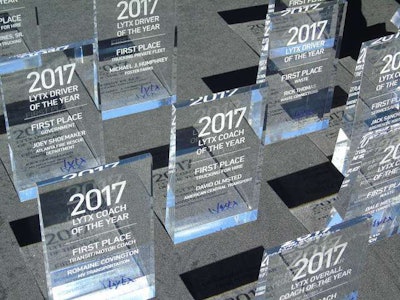 Lytx, Inc., a provider of video telematics, today announced the honorees of its annual "Driver of the Year" and "Coach of the Year" awards, presented on Tuesday, Mar. 15, at the 5th annual Lytx User Group Conference in San Diego.
The awards acknowledge the best professional drivers and coaches currently using the Lytx DriveCam program. Lytx was founded almost 20 years ago and operates on the principle that driver performance can be dramatically improved using video and data-driven coaching.
Lytx says it DriveCam safety programs now protect nearly 650,000 drivers worldwide.
"Recognizing successful drivers and coaches involved in the DriveCam program is one of our favorite responsibilities," said Del Lisk, Lytx vice president of safety services. "These individuals share our belief that safe driving is a product of continuous learning and are committed to keeping the roads safe for themselves and those with whom they share it."
Lytx is recognizing winners of the Driver of the Year award from DriveCam users across five commercial driving categories: Government; Services and Utilities; Transit/Motor Coach; For-Hire Trucking; Private Trucking; and Waste.
Government
First place winner — Joey Shoemaker of Atlanta Fire Rescue Department has been working at the fire station for 11 years and driving professionally for nine, following in his father's footsteps and fulfilling a childhood dream. He takes pride in responding to every emergency efficiently yet cautiously, keeping his crew safe so that they, in turn, can promote the safety of those in need.
Second Place – Danielle Condra-Gantt of MedStar Mobile Healthcare
Third Place – James Scogno of Fairfax County Government
Services and Utilities
First place winner – Carson McCall of Murphy-Hoffman Company (MHC) has been working with the company for 10 years, and within the transportation industry for 14. Not only has McCall avoided all vehicle collisions for the past three years, he has not had a single "coachable" event in two.
Second Place – Hector Gandaria of LeFleur Transportation
Third Place – Lupe Medina of ARS Rescue Rooter
Transit/Motor Coach
First place winner – Jaime Roman of MV Transportation has been driving in a professional capacity for 16 years, during which time he has received 43 awards, each acknowledging his over-and-above commitment to safety and customer satisfaction.
Second Place – Tim Merrell of Greyhound
For-Hire Trucking
First place winner – Elwin Hines Sr. of TransAm Trucking began his trucking career with TransAm nine years ago. Since the beginning of his career he has excelled and maintained a spotless driving record — zero preventable accidents, zero claims charged against him, and zero moving violations — earning him a spot as a TransAm DriveCam Top Performer every week of 2016.
Second Place – Robert Fletcher of Long Haul Trucking
Third Place (tie)– Joseph W. Barnett of Crete Carrier Corporation and John Burroughs of Styline Logistics
Private Trucking
First place winner – Michael J. Humphrey of Foster Poultry Farms has received each of Foster's safe-driving awards since starting on the job 12 years ago. Driving in the Pacific Northwest offers challenges in terrain and weather, both of which Humphrey has dealt with safely and efficiently.
Second Place – Jefferey Crawford of Pilgrim's
Third Place – Bobby Seagroves of Tyson Foods, Inc.
Waste
First place winner – Rick Thomas of Waste Connections has been working for the company for 30 years and earned the Western Region Driver of the Year award in 2016, largely due to the consistently high praise he receives from colleagues and clients alike. In the three decades he has worked as a professional driver, Thomas has had virtually no incidents and has achieved a spot on Waste Connections' Honor Roll Program every year since its inception in 2011.
Second Place – Jermaine Jackson of Waste Management of Virginia Inc./Richmond Hauling
Third Place – Rochelle Ann Elie of WCA Waste Corporation
In addition to the Driver of the Year awards, Lytx presented the Coach of the Year award to recipient William "Billy" Roach, who has been a committed member of the City of Mobile Fire Rescue Department for over 25 years, most recently as their Chief Health & Safety Officer. In his role, Chief Roach works with the Mobile Fire Rescue Department, training drivers to follow safety procedures through the DriveCam program.
In the year and a half that Roach has been in his position, the department's performance rating, as well as coaching effectiveness, has consistently been superior to all of Mobile's other city departments. Roach believes the key to successful coaching is looking at challenges from different perspectives and that new approaches yield new, and often better, results.