Paccar companies Kenworth and Peterbilt on Wednesday at the Mid America Trucking Show announced plans to make the Bendix Wingman Advanced System standard on the T680 and Model 579 trucks, respectively.
The Wingman Advanced system works in conjunction with Bendix's Electronic Stability Program and includes in-lane object recognition with alert, adaptive cruise control with braking and collision mitigation braking technology that senses and helps drivers mitigate rear-end collisions. The radar-based collision mitigation system delivers adaptive cruise control with braking, along with autonomous emergency braking technology to help drivers mitigate rear-end collisions.
Bendix Director of Customer Solutions & Marketing Fred Andersky says collision avoidance systems have shown, in some cases, a 70 percent reduction in rear-end collisions and another 70 percent reduction in the severity of accidents in the other 30 percent.
Earlier this year, Kenworth also made the Bendix ESP Electronic Stability Program standard on T680 and T880 models. In 2016, Kenworth introduced the Bendix Wingman Fusion driver assistance system as an option for the Kenworth T680 and T880, and added Bendix Wingman Advanced as an option for Kenworth T270 and T370 medium duty trucks.
Pete 579 gets FlowBelow option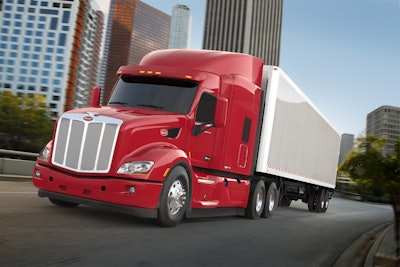 Additionally, Peterbilt said Wednesday the company will offer the FlowBelow Tractor AeroKit rear fairing system for the Model 579, beginning this spring.
FlowBelow Aero Inc. reports customers have achieved more than a two-percent increase in fuel savings through the use of the system, which includes center and rear fairings combined with patented wheel covers to optimize aerodynamic performance.