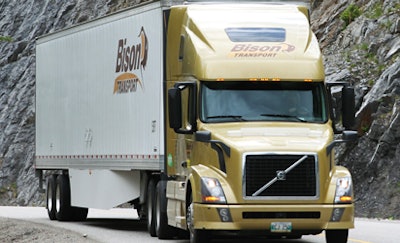 The Truckload Carriers Association recognized the 20 fleet finalists in its Best Fleets To Drive For contest in partnership with CarriersEdge and awarded two fleets as overall winners in the contest's small and large fleet categories.
"This year's best fleets have once again set new standard for workplace experience in the North American trucking industry, said CarriersEdge CEO Jane Jazrawy. "From compensation and benefits to operational strategy, professional development and work-life balance, they have raised the bar more dramatically than we've ever seen before."
Bison Transport was named winner of the overall Best Fleets to Work For award in the large fleet category for a wide range of exceptional driver programs, high driver satisfaction and turnover rate of less than 20 percent. This is the second year in a row Bison has received the honor, and the third time overall.
"Bison's programs are based on one thing, that is the absolute caring for the well-being of our drivers," said Garth Pitzel, director of safety and driver development.
Grand Island Express took home the honor in the small fleet category for its workplace innovation and stellar safety and driver satisfaction scores.
"The Best Fleets program continually pushes us to innovate and strive to provide an outstanding work experience for our professional drivers," said Tom Pirnie, president of Grand Island Express. "The award is testament to our office staff who know their job is to support our drivers and keep them happy, healthy and productive."
Best Fleets to Drive For is an annual survey and contest that recognizes North American for-hire trucking companies providing the best workplace experiences for their drivers. To participate, fleets must be nominated by a company driver or independent contractor working with them, after which they are evaluated across a broad range of categories reflecting current best practices in human resources. The 20 top finishers are identified as Best Fleets to Drive For and then divided in half according to size. The highest scoring fleet in each category is named overall winner.