In the tech world, a "beacon" is a small device that emits a signal that is picked up by a mobile app running on iOS and Android devices. The app reacts accordingly.
In transportation, one of the most recent applications for beacons is the ridesharing service Uber. The company gives contractor drivers a small device that goes on the windshield. It uses color-pairing technology to help drivers and riders more quickly connect at night, particularly at crowded venues.
Riders can personalize their pickup by selecting a color for the beacon to glow on their driver's vehicle.
Motus, which offers a mobile platform for vehicle management and mileage tracking for reimbursement, announced another use for beacons in transportation: to reduce battery drain from mobile apps that use GPS to track assets.
"Battery drain is a reality for any location-based app, as GPS-enabled technology creates a struggle between location accuracy and battery consumption. The more frequently GPS collects data from the phone's GPS chip, cell towers and Wi-Fi hotspots to determine location data, the more battery is consumed," said Craig Powell, president and CEO of Motus.
The types of fleets that use the Motus platform have workers that are service, sales and delivery professionals with non-specialty vehicles they use for both personal and business purposes, he says.
Rather than install a telematics device to track personal and business use of the asset, companies can use the Motus platform, which includes a mobile app that drivers download to a smartphone or tablet. The Motus Beacon is a small hardware device that utilizes Bluetooth Low Energy (BLE) technology to sense whether or not a Motus user's mobile device is in proximity to their vehicle.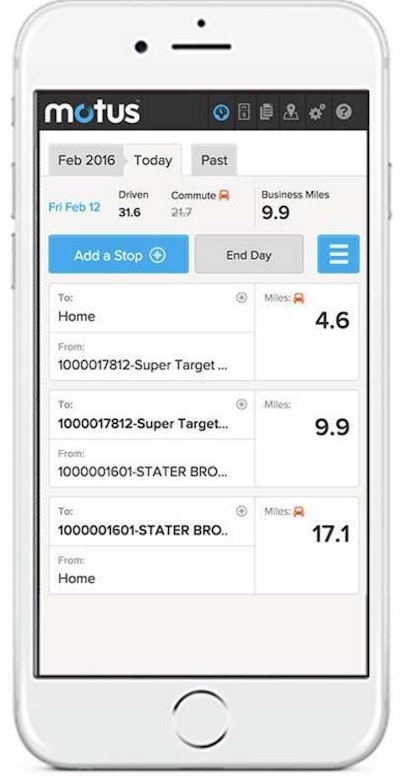 When the user approaches, or is inside their vehicle, the Motus Beacon senses their proximity and automatically enables the Motus App for mileage tracking when the vehicle begins moving. Conversely, when the vehicle is stopped, the Motus App automatically shuts down, preserving the user's battery life until returning to their automobile.
Recently completed customer testing revealed up to an 80 percent savings in battery life when pairing the Motus Beacon with the company's mileage tracking app.
The Motus Beacon costs less than $20 and is placed anywhere in the vehicle (typically the glove box or center console). The device has a basic accelerometer that Motus plans to use for future applications that will track driver safety behaviors.
"The beacon-based proximity industry has seen tremendous growth over the past few years, particularly in marketing to consumers," said Rick Blaisdell, Motus chief technology officer. "We're proud to have employed this technology in a unique way, but our investment in using beacon technology to solve battery drain is only the first step in developing much broader applications to benefit our end users."
Motus Beacon will be available beginning in Q2, 2017. For additional information visit http://www.motus.com/battery.