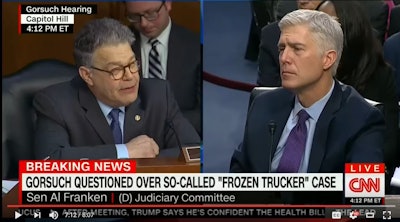 As of the morning of April 3, it appears Democrats rallied enough votes in the Senate to successfully filibuster Trump's nominee for a spot on the Supreme Court, Neil Gorsuch, and a lawsuit between a driver and his former trucking company employer may be partly to blame.
High-profile Democrats in recent weeks, including Senate Minority Leader Chuck Schumer, have cited Gorsuch's dissent in a wrongful termination lawsuit brought by truck driver Alphonse Maddin against his former carrier, Trans Am Trucking, as a reason to block Gorsuch's confirmation.
The case of the so-called "frozen trucker" has seen prominent play in the national press over the past few weeks, following an exchange between Senator Al Franken (D-Minn.) and Gorsuch during Gorsuch's confirmation hearings.
Gorsuch has argued he was only interpreting the law as it was written, which did not protect the driver against dismissal, he argued. Opposition to Gorsuch's confirmation, however, says his ruling defies common sense and reveals he's too hard-hearted for the Supreme Court.
The case at hand is fairly simple. In 2009, Maddin was driving in subzero temperatures in Illinois when the brakes on his trailer froze, leaving him stranded roadside waiting for maintenance help. The heater in his truck's cab had also failed, and Maddin began experiencing symptoms of hypothermia after sitting for several hours, according to court records. He reported trouble breathing and numbness from his waist down.
Maddin had been in touch with his carrier, TransAm Trucking, multiple times throughout the hours-long roadside breakdown, asking them if he could leave his trailer and find a place to warm up. TransAm dispatch told him to stay with the trailer. Maddin defied the carrier's orders, leaving his loaded trailer out of fear he would freeze to death.
He was later fired over the incident, and he filed a suit against TransAm for wrongful termination. He won the case at every level it was heard, with multiple courts ruling in his favor and against the carrier. The case's last stop was the 10th Circuit Court of Appeals, a court just below the U.S. Supreme Court, and the court on which Gorsuch currently sits.
Gorsuch's dissent from the majority against Maddin and in favor of the carrier argued the text of the law at hand did not protect Maddin from being fired. Maddin still won the case, as the other judges on the panel overseeing Maddin's case ruled in his favor.
Gorsuch argued federal law only protects drivers from being fired if they refuse to operate a truck if they would violate a safety regulation, due to bad weather or if they're too ill to drive. Maddin's case, Gorsuch argued, did not fit that criteria, because Maddin was asking his carrier to allow him to operate to protect his safety, rather than refusing to operate and violate a reg. "It might be fair to ask whether TransAm's decision was a wise or kind one. But it's not our job to answer questions like that. Our only task is to decide whether the decision was an illegal one," Gorsuch wrote in his dissent.
In addition to Franken, who called Gorsuch's dissent "an absurdity," other Senators also questioned Gorsuch's ruling in the Maddin case during his confirmation hearings last week.
California Senator Dianne Feinstein said Gorsuch's decision shows he sides with corporate interests over worker protection laws.
Sen. Chuck Schumer held a press conference last month with Maddin, saying Gorsuch's ruling to display what he called "the real-life implications of Judge Gorsuch's record of siding against everyday Americans and in favor of the powerful few."
The Senate is expected to begin voting on Gorsuch confirmation later this week. It appears Democrats can successfully filibuster the confirmation vote, as Senate rules require 60 votes to close debate and vote on the confirmation. Only a simple majority — 51 votes — is needed to confirm Gorsuch. Senate Major Leader Mitch McConnell has said he will change Senate rules to prevent Democrats from blocking Gorsuch's confirmation.