CCJ's Indicators rounds up the latest reports on trucking business indicators on rates, freight, equipment, the economy and more.
---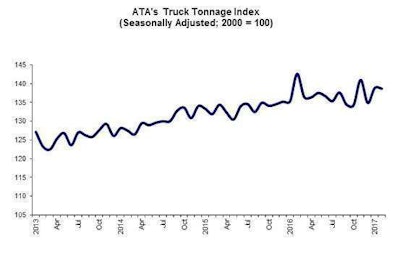 Tonnage dipped in February: The amount of freight tonnage moved by the for-hire trucking industry in February fell from January and last February, according to ATA's monthly For-Hire Truck Tonnage Index. The index was down a tenth of a percent from January, but it was 2.8 percent below February 2016.
Year to date through January and February, tonnage was only down a tenth of a percent from the same period last year.
"February's numbers, especially the year-over-year drop, might surprise some as several other economic indicators were positive in February," said ATA Chief Economist Bob Costello. "However, I'm not worried about the decline from February last year as it was really due to very difficult comparisons more than anything else: February 2016 was abnormally strong."
Costello says signs "remain mostly positive" for tonnage. "Lower inventory levels, better manufacturing activity, solid housing starts, good consumer spending, as well as in increase in the oil rig count — all of which are drivers of freight volumes," he said.
---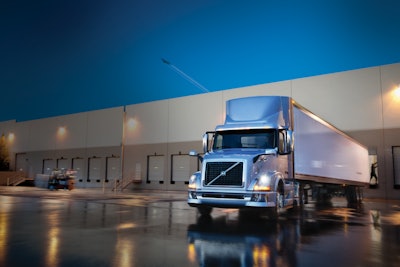 'Shippers Conditions' point to tightening capacity: Growth in the economy is causing trucking capacity to tighten, and rates are expected to increase should the growth continue, according to the latest Shippers Conditions Index from FTR.
"The economy is beginning to show signs of some acceleration. Manufacturing is attempting to shrug off its inventory woes, and business confidence has certainly improved," says FTR COO Jonathan Starks. "If sustained, this would raise the outlook for freight demand this year and into next year. While that would cause capacity to tighten, the tailwind is that the regulatory environment isn't expected to have as dramatic an impact as initially thought. Costs, especially rates, are still expected to see increases this year after a relatively weak rate environment in 2016."