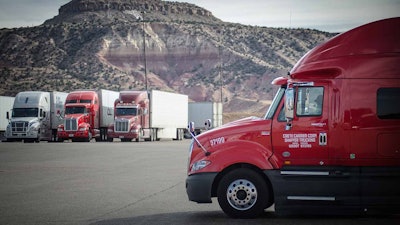 The Supreme Court has ruled it will not hear a truck driver's lawsuit against Crete Carrier Corp., leaving in place a lower court ruling in favor of Crete and its policy to require testing for obstructive sleep apnea for certain truckers.
Crete (No. 22 in the CCJ Top 250) driver Robert Parker sued the carrier in 2013, arguing the carrier's apnea-screening program violates drivers' rights within the American Disabilities Act.
The 8th Circuit Court of Appeals issued a decision in October upholding the legality of Crete's policy, calling it "legitimate and non-discriminatory." Only outranked by the Supreme Court, the 8th Circuit's decision is likely the case's final verdict. Parker sued seeking back pay and reinstate of employment when he was fired for refusing an in-lab sleep study after Crete ordered him to be tested.
The decision could set a precedent for other courts, meaning carriers nationwide can install such apnea-screening programs and not be subject to court-ordered payouts.
Crete instituted the policy in 2010. It requires all driver applicants with a body mass index of 35 or greater to be screened for sleep apnea via an in-lab study.
Parker, after being told by Crete to seek testing, brought a note from his personal doctor to his employer. His personal doctor said testing wasn't necessary. Crete suspended Parker after he again refused to take an in-lab apnea test and never reinstated him.
Parker sued for wrongful termination.
Following his losing bid in the 8th Circuit Court, Parker petitioned the Supreme Court to hear the case. The Supreme Court issued a notice April 3 saying it had denied Parker's request.
Given the ruling, carriers could institute similar sleep apnea screening policies. The Federal Motor Carrier Safety Administration's Medical Review Board last year recommended the agency adopt a rule requiring drivers with BMIs of 33 and higher, and who meet other criteria, be flagged for automatic apnea testing.
FMCSA has not yet issued a rule in any form on apnea screening.