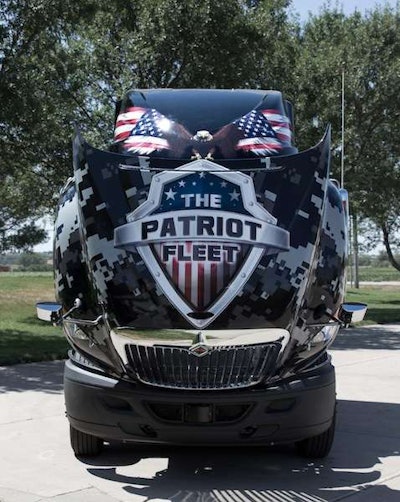 January CCJ Innovator: Crete Carrier Corporation
Lincoln, Neb.
With its new Patriot Fleet, Crete Carrier delivers its message of appreciation for military veterans over the road
While the current driver shortage hasn't reached the doomsday scenario many analysts had predicted, competition for qualified drivers remains fierce. With a lack of skilled drivers entering the work force, many fleets have set their sights on one particularly attractive pool of candidates – military veterans.
Crete Carrier Corporation is no exception to this recent trend. In fact, in terms of actively recruiting veterans, the Lincoln, Neb.-based nationwide dry van carrier may well be the exception. The company's motives for hiring military veterans is much deeper than simply filling seats, thanks in large part to a corporate philosophy driven by Duane Acklie, Crete Carrier chairman. Acklie himself is a military veteran, having served two years of active duty in the U.S. Army – including 20 months in Germany – as well as seven years in the Reserves.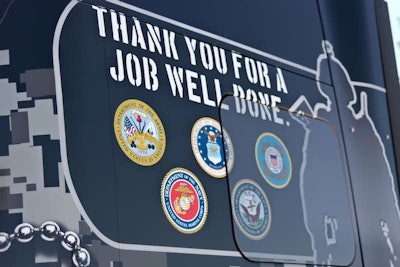 The company develops the Patriot Fleet to instill pride and awareness for its many efforts to recruit and support returning military.
"We have to do everything we can to help [veterans and troops returning from overseas] because they have not had the chance to network while they were in the military, and we have to make up for that," says Acklie. "When I served in the Army, I had gone out of the country for 20 months, and in 20 months when you're overseas, you lose contact with a lot of people. … I had to do a lot of scrounging to try and find the job that I wanted. We can't expect people to go away and serve many years in the military and then come back and not have anything to do."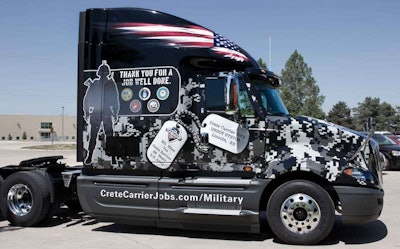 In 2011, Crete Carrier established its Military Transition Program, paving the way for recruits and preparing veterans for career opportunities as drivers, shop mechanics and front-office employees. For driver candidates, the program requires a Class A commercial driver's license, honorable discharge, two years of active-duty military experience and one year of military semi tractor-trailer experience in the last five years.
"The eight-week program is designed to take the semi tractor-trailer skills learned in the military and translate them to civilian commercial driving," says Jeff Dady, driver development manager. "Our program is different from other programs because we have great benefits and excellent pay, and the driver will be paired with an experienced trainer over those eight weeks." Drivers in the program receive $500 per week during the training period and will earn between 37 and 40 cents per practical mile upon completion.
Crete Carrier, along with its Shaffer Trucking and Hunt Transportation operations, also recently launched a military recruitment Website – WeHireVeterans.com – that highlights the company's Military Transition Program, military decorations and information on military career fair announcements.
"Crete Carrier values veterans, and they will always be an integral part of our success," says Tonn Ostergard, Crete Carrier president and chief executive officer. "Nearly 30 percent of our employees have a military background, and we would like that to continue to grow."
The company also supports the Wounded Warrior Project and the Operation Enduring Care Program of the United Service Organizations, and was named a five-star employer by the Employer Support for Guard & Reserve.
For its many military-related efforts, Crete Carrier was named as a 2012 Most Valuable Employer for Military by CivilianJobs.com, a worldwide military base newspaper and Website that helps active and retired military personnel transition into civilian careers. In addition, the carrier was honored as a 2013 Top 100 Military Friendly Employer by G.I. Jobs, being selected from a group of 5,000 companies with annual revenues of at least $500 million.
Building an awareness
In late 2011, Crete Carrier took a hard look at new ways to attract drivers and nondriving associates to the company. With its strong commitment to honoring and assisting military veterans, company executives started laying the groundwork for a new program.
In August of last year, Crete Carrier announced the Patriot Fleet, a program designed to showcase its commitment not only to its employed military veterans, but also to those outside the industry. It purchased five new black tractors – which stand out against the carrier's 6,000 standard red and blue cabs – and adorned them with full decal wraps. A slogan on the side of the tractor reads "Thank you for a job well done."
"We really just want to express our gratitude to retired veterans out there and let them know if they are looking for a good career, we can help make it easy for them," says Dady.
Crete Carrier then selected five drivers from its ranks based on safety records, service excellence and length of military service. The selected drivers all had lengthy careers in the U.S. Armed Forces, representing the Army, Air Force, Navy, Marine Corps and Army Reserve National Guard.
"Making a military transition to a civilian job is one of the scariest things in the world to a sailor, marine, soldier or airman," says Charles Cornelius, a 17-year veteran of the U.S. Navy and a Patriot Fleet driver for Crete Carrier. "We don't know what to expect out there. With Crete, they help us get started out here and tell us what they want from us."
While only five individuals were selected to drive the Patriot Fleet trucks, all Crete Carrier associates with military backgrounds are part of the Patriot Fleet. "All shop and office employees and drivers in standard company trucks can have decals on the side of their trucks to thank them for their service," says Dady.
Crete Carrier uses the Patriot Fleet trucks for outreach programs, such as attending Veterans Day ceremonies across the country and visiting grade schools to educate children on trucks. This year, the company participated for the first time in the Wreaths Across America program, delivering wreaths to Arlington National Cemetery.
"Every week, [the Patriot Fleet drivers] call us with stories of meeting individuals thanking them for their service, and the drivers are thankful that Crete is honoring them because they've dedicated a part of their lives to protect our freedom," says Dady.
Although Crete Carrier currently has five Patriot Fleet trucks, Dady says the company could have added another 50 power units given all the drivers in the fleet that met the requirements. "Our goal is to add another five Patriot Fleet trucks in 2013, adding one driver from each branch of service in the next round," he says.
CCJ Innovators profiles carriers and fleets that have found innovative ways to overcome trucking's challenges. If you know a carrier that has displayed innovation, contact Jeff Crissey at jcrissey@ccjmagazine.com or 800-633-5953.