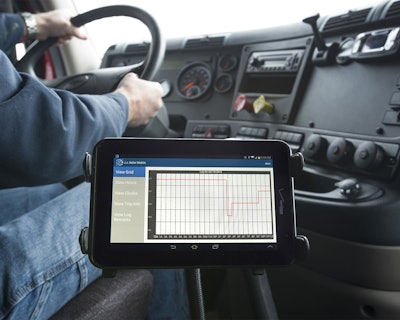 With time waning on the issue, the Owner-Operator Independent Drivers Association still hopes to convince the courts or regulators to kill the U.S. DOT's electronic logging device mandate before the Dec. 18 deadline of compliance.
One of its most recent tactics has sparked a competition for the attention of the head of the DOT herself, Secretary Elaine Chao.
OOIDA sent a letter directly to Chao last month asking her to nix the rule, prompting a response last week by the Trucking Alliance, who sent a rebuttal to Chao urging her to keep the mandate in place.
OOIDA's March 21 letter was sent the same day it announced a new anti-regs campaign, dubbed "Knock Out Bad Regs." It urges Chao to sweep the ELD mandate into the Trump administration's broad-level push to cut federal regulations. In addition to OOIDA, 16 other groups signed the letter, though none of them are trucking-focused organizations.
The letter asks Chao to "delay and remove" the ELD rule, saying its estimated costs of implementation — $2 billion industry-wide — outweigh its benefits. The letter was also sent to members of Congress who serve on House and Senate transportation committees. OOIDA also took aim at a preliminary rule issued by the DOT in September to mandate speed limiters on heavy trucks.
"Of all the regulations your department will consider repealing…none will have a greater positive impact on American businesses than these two costly and burdensome rules. We encourage you to prioritize the ELD mandate and proposed speed limiter rule when identifying regulations for elimination."
The Alliance, meanwhile, pressed Chao in its letter to maintain the mandate and its Dec. 18 effective date, arguing it has safety and economic benefits that exceeds its costs to carriers.
The Trucking Alliance is a small coalition of prominent carriers, including Maverick USA, Knight, Swift, U.S. Xpress, J.B. Hunt and others. Its core lobbying agenda includes pushing for an ELD mandate, drug testing via hair sample, a speed limiter mandate and an increase in the minimum amount of liability insurance required of motor carriers.
Lane Kidd, managing director of the Alliance, says he's been assured by the DOT his group will land a meeting with Chao to discuss the issue further.
In addition to its letter, OOIDA has also made a last-ditch court effort to have the ELD mandate overturned. This month, it filed a petition to the Supreme Court asking it to hear its case against the mandate. The Supreme Court has not yet said whether it will hear the case.