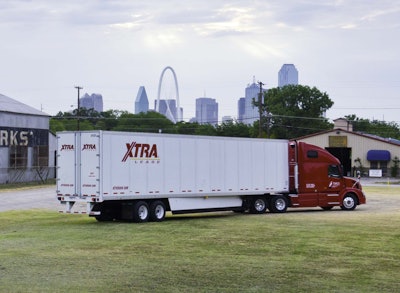 XTRA Lease, a provider of over-the-road trailer equipment rental and leasing, is installing the SkyBitz GXT5000 solar-powered fleet management system on over 50,000 of its over-the-road dry vans and reefers, including approximately 9,000 new trailers purchased this year.
The GXT5000 series operates on the 3G/4G and LTE cellular networks and is ideal for operations that require near real-time reporting on the status of trailers. The trailer tracking system from SkyBitz helps improve asset allocation and enhances logistics and security for XTRA Lease customers, the companies said in a press release.
"We're excited about this latest leap forward in trailer tracking, which we make available to all customers to help them better manage their rental and lease trailers," said Bill Franz, president and CEO of XTRA Lease. "One of the most important services we can deliver to fleets is the ability to identify dormant and under-utilized rental trailers. That way, fleet managers can target low-use trailers and return them to XTRA Lease or deploy them elsewhere in their operation. Our new trailer tracking dashboard takes this concept to a new level."
XTRA Lease and SkyBitz have collaborated to create a web-based portal that delivers trailer tracking data needed by fleet managers for rental and leasing fleets. The new XTRA Lease trailer tracking portal features:
Near real-time reporting – trailers report location at the beginning and end of every trip and at 30-minute intervals when they're moving. They report in daily when not moving.
A robust dashboard. Dormancy, utilization, a list of trailers, a map of current trailer locations and counts, and more are displayed on one page.
Custom landmarks and trailer groups to track what's important.
Interactive mapping powered by Google that displays the current locations of trailers and number of trailers at each location.
All services are free on rented and leased over-the-road trailers from XTRA Lease and accessible via xtralease.com.
"We are proud to have been chosen by XTRA Lease, the leader in the rental and leasing market, to meet their customers' fleet management needs," said Henry Popplewell, president of Telular IoT Telematics, the parent company of SkyBitz. "It is exciting to see how a deployment of this magnitude will be completed in 12 months due, in large part, to the SkyBitz Deployment Services Team and their many years of experience coordinating and managing large scale installations."