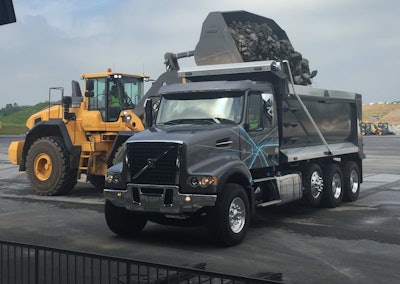 Volvo Group posted improved sales and profitability for the first quarter Tuesday.
Global volumes of heavy-duty and medium-duty trucks fell 4 percent, led by a North American market that Volvo Group President and CEO Martin Lundstedt says "seems to be bottoming out."
"We see positive signs of increased order activity," he adds.
Volvo Group's net sales increased by 8 percent to $8.7 billion in the first quarter.
Vehicle sales increased by 3 percent, primarily on good demand for products in Europe and Asia.
North American heavy-duty truck industry orders increased during the quarter (from 8,892 to 11,334), and "dealer inventories of new trucks are at healthy levels," Volvo said through its earnings release.
"However, inventories for used long- haulage trucks remain elevated. This continues to dampen demand for new trucks in this segment despite indications of an improving freight environment. Demand in the refuse and construction segments remains good. Retail sales for the industry are forecasted to be lower 2017 compared to 2016."
In North America, deliveries were down 34 percent compared to the same quarter last year.
Both Volvo Trucks and Mack gained market shares, with Volvo Trucks reaching 9.4 percent and Mack reaching 8.9 percent. "An order intake increase of 27 percent was driven by both Volvo Trucks and Mack activity within the construction segment and a somewhat improved freight environment combined with low dealer inventories," the company says.
Earlier this month, Volvo launched its new Volvo VNR regional haul tractor – the company's first step in the renewal of the Volvo lineup in North America.
"With its modern, ergonomic and more aerodynamic cab, the new vehicle will significantly improve Volvo's position in the regional haul market," Lundstedt says. "Product features are focused on delivering the maneuverability, productivity and safety that are so important to customers in this segment."