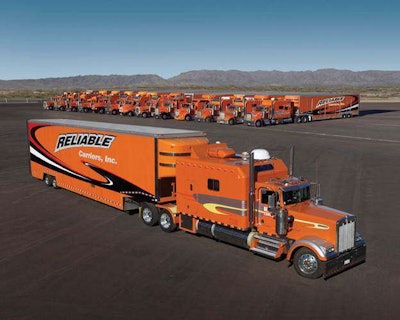 Reliable Carriers, the world's largest classic and specialty automotive transport company, has been awarded "Carrier of the Year" by the 2017 Annual Automotive Global Awards North America.
Automotive and other transportation executives from the world over attended the black-tie gala event hosted by Thjree6Zero Media, where companies from 20 different categories were honored. The "Carrier of the Year" award is given to an operator that delivers excellence to customers and demonstrates dedication to delivering outstanding service and innovation. The category is open to all North American road, rail and shipping companies
"Reliable Carriers, Inc. is honored to have been chosen as the Carrier of the Year. It is a true testament to the hard work and dedication of all our employees and contractors to providing world class service to our customers," said Bob Sellers, vice president of Reliable Carriers.
Family owned and operated since 1960, Reliable services the automotive industry with automotive transport expertise from everyday collector cars to $5 million modern-day supercars.