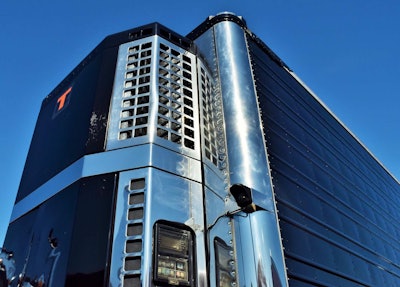 Digi International, a global provider of machine-to-machine (M2M) and Internet of Things (IoT) connectivity products and services, introduced Digi SafeTemps.
Digi SafeTemps provides precise and continuous visibility using wireless monitors that automatically generate temperature alerts and reports of perishable goods throughout the transportation and supply chain process.
As part of the U.S. Food and Drug Administration (FDA) Food Safety Modernization Act (FSMA), shippers and receivers must verify that transport units are pre-cooled prior to loading, and track temperatures during transit. They must also capture, log and share temperature monitoring data to show end-to-end compliance.
In addition to providing customers with the ability to meet new FSMA requirements, Digi says the new product provides an independent audit of refrigerated trailers by monitoring three temperature zones: frozen, refrigerated and ambient temperature. With Digi SafeTemps technology deployed directly within each zone inside the container a real-time and accurate record verifies that the reefer unit is meeting FSMA requirements.
"Requirements of the Food Safety Modernization Act present immediate challenges for our customers in the transportation industry," said Kevin C. Riley, chief operating officer, Digi International. "Digi SafeTemps automates temperature logging and location reporting. Our solution is unique in that it continuously measures temperature at the point of product, within the cooling system itself, providing an independent verification of a trailer's reefer equipment."
"We're using SafeTemps across our entire trailer fleet to give us continuous visibility, which is leaps beyond the interval-based level of insight of competitive solutions " said Julie Trudel, operations manager, ASL Global Logistics. "It provides immeasurable value in ensuring accurate and automated reporting across our fleet and our ability to provide that insight to our customers."
"The combination of the cloud-based service with the ease of installation made Digi SafeTemps an easy decision," said Joe Pfeifer, director of loss prevention and food safety, Merchants Distributors, LLC, a privately owned wholesale grocery distributor headquartered in Hickory, N.C. "Any time your business is based on shipping, you can't have your fleet sitting in the yard for technology upgrades. Digi SafeTemps was installed quickly and easily."