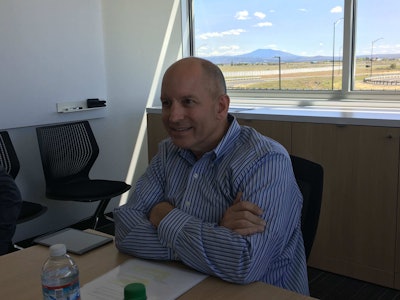 The political volatility that surrounds President Donald Trump's administration isn't likely to change the implementation of Greenhouse Gas (GHG) Phase 2 by 2021, Daimler Trucks North America (DTNA) president Roger Nielsen says.
Neilsen, speaking to commercial trucking media at the grand opening of DTNA's new test track in Madras, Ore., says GHG rules to-date have done a good job of setting progressive standards for efficiency and air quality with Phase 2 continuing those trends into the next decade.
In the unlikely event that Phase 2 is shelved, Neilson thinks it even more unlikely that truck OEMs – including DTNA – would change their strategy of producing trucks that provide increased fuel economy.
"Our changes that we're making all provide increased fuel efficiency to our customers," he says.
Too, Nielsen showed little concern with political trade winds swirling around the North American Free Trade Agreement (NAFTA).
"We're a global company, and globally we believe in free trade," he says. "I don't anticipate any major changes in NAFTA."
An Oregon native, Nielsen began his career with DTNA in the mid-80s and has been chief operating officer since 2001. The opening of the High Desert Proving Grounds was the company's first launch with Nielsen, who took over for Martin Daum earlier this year, at the helm.
A Class A CDL holder, Nielsen takes over DTNA and its position as the on-highway leader in marketshare, but says his goals are to make a push to seize the top spot in the vocational truck segment as well.
The current rate of Class 6-8 truck order intake, Nielsen says, supports a forecast of about 350,000 units this year. He notes that the order mix is more equally weighted between large and midsize fleets than previous cycles, and DTNA is seeing more small fleets participate in the market buying new trucks.
"Most major fleets have fresh fleets," he says, noting low dry van rates from shippers is keeping some fleets from being able to purchase new trucks, as are low used truck values.
"They're hanging on to it for longer periods than they would in the past," he adds.