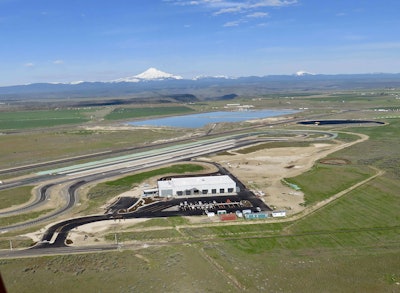 Daimler Trucks North America (DTNA) on Thursday opened its new High Desert Proving Grounds in Madras, Ore.
Built in just more than 13 months, the $18.7 million research and development facility sits on 87 acres next to the city airport and includes a 3.5-mile test-track loop and 32,000 square feet building.
The track represents part of a more than $170 million investment in the State of Oregon, including Daimler's new Portland headquarters about 120 miles north.
Roger Nielsen, Daimler Trucks North America president and CEO, says the company will use the proving grounds to validate truck designs as well as test connected vehicles, platooning, and autonomous trucks and technology.
"It is truly a place to bring products to the market faster," he says.
Madras has been home to a smaller Daimler test track for more than 30 years, and DTNA Senior Vice President of Engineering and Technology, Dr. Wilfried Achenbach says Madras was selected for expansion due to its proximity to Portland, making it easier to get engineers involved in the design validation process.
"It will save us time, and bring our engineers closer to the product, and allow us to engineer a better truck," he says.
Previously, Daimler primarily tested its trucks in New Carlisle, Ind.
The route from Portland to Madras also provides vehicles real world validation by including portions on the interstate, rural roads, and mountainous terrain through the Mount Hood pass. Most recently the route has been used to validate potential gains of truck platooning, just one technology that DTNA is exploring for the future benefit of our long-haul fleet customers.
The Madras track is similar in design to Daimler tracks in Germany and soon in Brazil, which Achenbach says will allow engineers to share data across the company's global network.
The track's design, thanks in part to its varying engineered surfaces, allows the company to accelerate its road testing. Achenbach says 6,000 miles around the truck represents 1.2 million miles on-highway, allowing engineers to simulate a typical vehicle's full service life in approximately six months.