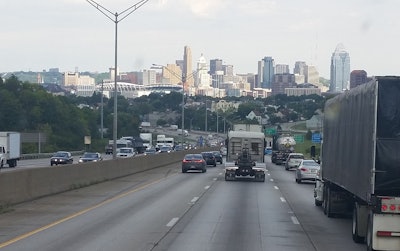 President Donald Trump's proposed budget for the 2018 fiscal year has drawn tepid reactions from some trucking groups, particularly over his call for allowing greater tolling efforts on U.S. Interstates.
Trump's budget, as noted Monday, proposes removing the ban on tolling existing Interstate lanes, according to most interpretations, along with slashing billions from the Department of Transportation's annual budget, greater privatization of public rest stops and attempts to drum up investment from private companies for highway projects.
Several trucking groups, however, have balked at Trump's proposal to fund highways via tolls, as have anti-toll groups, obviously. Others, such as the International Bridge, Turnpike and Tunnel Association, have expressed tepid support, arguing any step toward boosting highway funding is better than no steps.
"Toll financing is not the answer for every infrastructure project in the country, but the power of tolling is proven and effective," IBTTA said in a statement. "Giving states flexibility to toll their interstates for the purpose of reconstruction is consistent with two principles outlined in Transportation Secretary Elaine Chao's recent testimony before the Senate Environment and Public Works Committee: long term reform on how infrastructure projects are regulated and broadening and expanding participation in infrastructure funding so that more projects can be undertaken overall."
Bill Sullivan, executive VP and head of advocacy at the American Trucking Associations, says the group is "encouraged" to see the administration addressing infrastructure funding. But ATA hopes to avert attention away from tolls to what it calls "more efficient and sustainable funding mechanisms."
"While ATA is encouraged by the apparent focus on infrastructure investment in this budget, an investment we strongly support and look forward to helping the administration and Congress shape, we are deeply concerned by the proposal to loosen the restrictions on interstate tolling," says Sullivan. "In addition to being inefficient and unsafe, tolling has proven to be deeply unpopular, with states like North Carolina and Virginia abandoning interstate toll projects. Quite simply, time and again, proposals to use tolls to fund highways have failed."
Likewise, the National Association of Truckstop Operators took issue with Trump's call for greater privatization, both about more tolls and private investment into rest areas. "The proposals to toll Interstates and commercialize Interstate rest areas threaten the businesses that serve interstate highway travelers, such as travel plazas, convenience stores and restaurants," NATSO said in a statement. "'Public-private partnership' sounds innovative; proponents talk about attracting 'new money' for construction. What we need to understand is that public-private partnerships in the context of surface transportation are nothing more than toll roads. It would be great if we had a magic pot of money to pay for construction and maintenance of our roads. We don't. Under this proposal, the same people who have been paying fuel taxes to build and maintain these roads will have to pay tolls, too."
Trump's proposal, though, likely will find little traction in Congress, even among Republicans. Presidential budgets are usually more symbolic than substantive.