CCJ's Indicators rounds up the latest reports on trucking business indicators on rates, freight, equipment, the economy and more.
---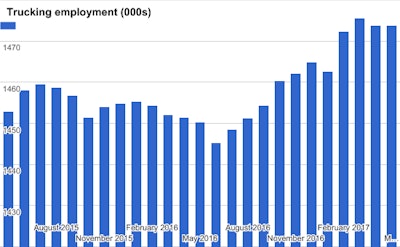 Trucking drops 100 jobs in May: Total employment in the for-hire trucking industry was nearly unchanged in May from April, falling by 100 jobs in the month, according to the Department of Labor's monthly Employment Situation Report.
Trucking's dip comes amid an otherwise stable jobs report, with the U.S. economy as a whole adding 138,000 jobs — fewer than anticipated but enough to push the unemployment rate to 4.3 percent.
The small decrease in trucking industry employment follows a 1,700 decrease in April, though February and March posted strong gains in industry employment, gaining nearly 13,000 jobs combined between the two months.
Total employment in for-hire trucking totaled 1473.8 in May, according to the DOL. That's nearly 24,000 jobs more than May 2016.
Construction in the month added 11,000 jobs, while manufacturing dropped 1,000. The transportation and warehousing sector, under which trucking employment falls, added 3,600 jobs in the month.
---
'Shippers Conditions' favor carriers: Market conditions for shippers, as measured monthly by FTR's Shippers Conditions Index, remained in negative territory in March, according to the latest reading. FTR is warning shippers to prepare for a potential tightening of trucking capacity that could loom with more widespread adoption of ELDs and other factors, the firm says.
"The trucking market still seems to be in a relative balance with enough available capacity to move goods at reasonable pricing," says Jonathan Starks, COO at FTR. "However, that balance is slowly shifting toward the carriers. Spot market load activity is well above levels we saw last year, and spot pricing has recently hit double-digit increases."
"The potential for significant capacity tightness to occur by late 2017 is increasing as the freight environment is strengthening from a resurgence in manufacturing, construction, and industrial activity," he adds. "Add in a potential capacity reduction due to the Electronic Logging Device (ELD) implementation in December, and the trucking market is poised for a significant change in 2018."