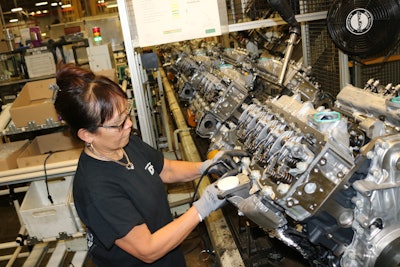 Truck orders for May fell 31 percent from April, snapping a long and steady streak of increased activity that started in October last year.
According to preliminary numbers compiled by FTR, a net of 16,300 Class 8 trucks were ordered last month, up 29 percent from the year before.
FTR Vice President of Commercial Vehicles Don Ake says the drop was not surprising, as fleets had been placing strong orders for the last several months for second half delivery.
"The order numbers are not that worrisome, considering the steady volume of orders over the past seven months," he says. "It appears the typical summer order slump just showed up one month early. It does indicate the market is functioning normally and there is a steady, not robust, upward trend."
"While the magnitude of the decline is greater than expected, the timing is spot on," adds ACT Research Vice President Steve Tam. "May is typically the time of the year when order intake drops below average."
Ake says the slowdown in order activity will give truck OEMs a chance to get production lined up with demand. The FTR 2017 forecast looks solid, if orders maintain this pace through the summer.
Total orders for the past twelve months have totaled 211,000 units.
"We still expect the Class 8 build and sales to continue to increase as the year progresses," Ake says. "May orders were actually very close to our January forecast, so the market continues to move ahead as expected.  Orders should continue at about this pace through the summer, which will be good enough to support stronger demand in Q3 and Q4."
According to ACT Research, preliminarily North American Classes 5-7 orders jumped 13 percent from April and 22 percent from last May.