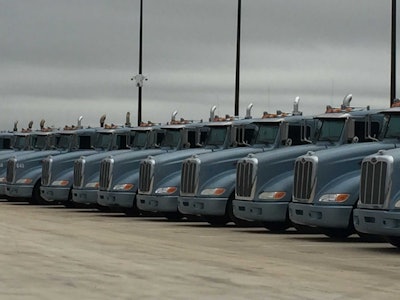 Auction prices for Class 8 trucks continued to flatten out despite higher volume in April, a trend that J.D. Power and Associates says suggests the market is finding a bottom.
"Retail pricing still shows depreciation on par with late 2016, but we expect that channel to moderate as well," says Chris Visser, senior analyst and product manager, commercial vehicles. "Late-model medium duty cabovers are performing well, while lighter-GVW conventionals continue to outperform their heavier counterparts."
Visser says trucks of model year 2011 have averaged 1.5 percent depreciation per month, while 2012 trucks have depreciated 0.3 percent per month, and 2013 trucks have actually gained 12.2 percent.
"Combined with the higher volume in March and April, we view these flat to upward pricing results positively," he says. "It is looking more likely that auction pricing has hit bottom."
The Peterbilt 579, Kenworth T680, Volvo VNL 730/780, and Freightliner Cascadia outperformed the retail market average in the first quarter. Visser says the two Paccar models performed strongest when equipped with a Cummins ISX engine while the Cascadia brings the most money when equipped with its proprietary DD15/DT12 drivetrain.
"Overall sentiment about the trucking economy is improving," Visser adds. "It is possible we are finally seeing a degree of increased demand for used trucks. Values will continue to be impacted by returning supply, but evidence is building that pricing has found its floor."