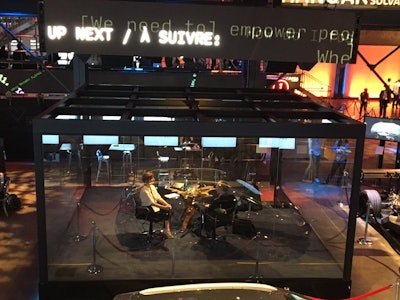 For almost 20 years, Michelin has collected mobility thought leaders into a hive mind of transportation at its Michelin Challenge Bibendum, which debuted in 1998.
This year, with mobility changing habits and patterns at a breakneck and unpredictable pace, the tire maker shifted its strategy to Movin' On – a global sustainable mobility summit.
Serge Lafon, head of Group Michelin Truck, says the gathering, which took place this week in Montreal, is likely to become an annual event as the company looks to further enrich its goals of sustainable mobility.
Michelin CEO Jean-Dominque Senard confirmed Lafon's prediction Thursday afternoon, announcing that not only would Movin'On return in 2018, it would also return to Montreal.
This year's event drew more than 4,000 participants from 31 countries, 40 startups and 105 partners including universities, research institutes and governments, 80 speakers, and provided 48 workshops and masterclasses and 21 vehicles for a ride and drive showcase.
Tuesday morning, in the opening address that kicked off the conference, Senard called Movin'On "a call to action – collective, optimistic, technologically demanding action in phase with the twenty-first century and with the challenges that we must meet."
Among Michelin's more immediate goals, Lafon says, is to reduce the amount of natural rubber in the company's tires. Natural rubber production has trended down much of this year thanks to an industry-wide effort to use more renewable materials.
"We've invested a lot in a more sustainable rubber supply chain to make sure production is renewable," he says.
Changes in compound have not only reduced amounts of natural rubber, but also made tires lighter and more durable.
"We reduce weight every time we launch a new generation [tire]," Lafon says. "Less mass for more usage."
In an interview with CCJ, Michelin Americas Truck Tires Chief Operating Officer Ralph Dimenna says improved compounds will be featured heavily in a new X Multi-D (XMD) regional-drive tire the company plans to roll out later this month.
"It's a nice fuel economy play with added longevity and traction," he says, noting testing has shown a 60 percent improvement in start up traction and up to 70 percent better wear versus its closest off-shore competitor.
Retreads are also a large part of Michelin's sustainability goals, Lafon adds.
"When you use a retread once, you're saving about 40 percent natural resources," he says. "If you reread it twice, you save about half of the natural resources."