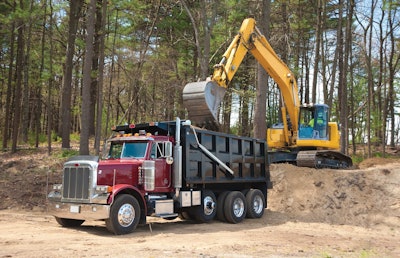 Michelin Americas Truck Tires introduced Tuesday its X Works Z, an all-position tire for mixed on/off road applications that replaces Michelin's XZY3.
After four years in development, Michelin's X Works Z tire is available as of this week in 11R22.5, 12R22.5 and 11R24.5 sizes in load range H and a 315/80R22.5 size in load range L. A 12R24.5 size in load range H will launch at a later date.
Designed to improve uptime, Eric Ireland, marketing operations manager for Michelin, says Michelin's X Works Z tire features a 50 percent wider protector ply and a thicker layer of cushion gum competitive tires and offers a 5 percent increase in removal mileage.

The tire casing features a groove-to-groove protector ply to provide protection all the way to the outer grooves and thick shock-absorbing cushion gum for extra protection against impact shocks.
"The thicker the cushion gum is, the more shock absorbent properties it's going to have," Ireland says. "That cushion gum is adding another layer of protection."
The Michelin X Works Z also features a dual-layered defense against stone retention and stone-drilling, with V-channels and groove bottom protectors.
"The V-channels keep those pebbles, those rocks, from lodging in there … so we don't have that drilling taking place to begin with," Ireland adds.
The sidewall features a double treatment of TW6 Ozone Resistor for increased protection against ozone cracking and thick sidewalls to fight impacts.
Michelin is currently offering customers a six-month worry-free road-hazard guarantee. If the tire is taken out of service in the first six months or before 50 percent of its useable tread life, Michelin will provide a $200 credit per tire, Ireland says.