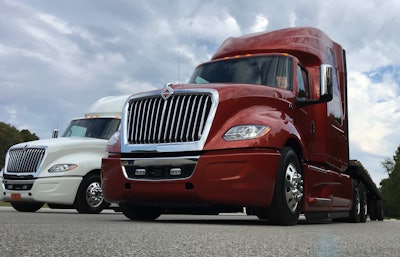 International Truck said Thursday the company will make Bendix ADB22X air disc brakes standard on all axles of 6×4, 6×2, and 4×2 LT Series trucks.
International Trucks Senior Vice President of Global Product Development Denny Mooney says the disc brakes help the company with its increased uptime initiative while also providing a higher degree of safety for the driver.
The Bendix ADB22X air disc brake from Bendix Spicer Foundation Brake LLC (BSFB) features a patented lightweight design that significantly reduces stopping distance and extends brake system life. Complementing the straight, stable stops that air disc brakes provide is greater reliability, thanks to a design that nearly eliminates brake fade and degradation of stopping power. In addition, total cost of ownership can be reduced by installing durable, long-lasting air disc brakes which generally allow for significantly shorter pad change times than traditional drums.