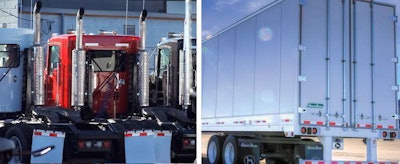 Net trailer orders for the month of May reached 16,600 units according to FTR, a 17 percent slide from the month before but a surge of 26 percent from the same month last year.
May's numbers begin what is likely a typical seasonal decline after two months of stronger than expected activity.
"After a very slow start last fall, orders have been up year-over-year every month since December, with both April and May posting year-over-year gains of 25 percent or better," says Frank Maly, ACT Research director of CV transportation analysis and research.
FTR Vice President of Commercial Vehicles Don Ake adds that business activity last month met expectations with surprises.
"Refrigerated trailers appear to be weakening a bit faster than expected, but sales had been so strong for so long, this had to happen eventually," he says. "The vocational [non-van] segments have stabilized and continue to make a moderate recovery."
Trailer orders have totaled 253,000 units for the past 12 months. Backlogs fell 7 percent last month and remain 15 percent below a year ago while production climbed 3 percent from April on a per day basis.
"It still looks like a great year for the trailer market," Ake adds. "Replacement demand remains vibrant in the dry van segment and steady in the other segments. Expected increases in freight volumes is creating expansion demand in many segments. This should provide decent market momentum rolling into 2018."
"The major May story is the continuation of the 2016/17 order season momentum," Maly adds.