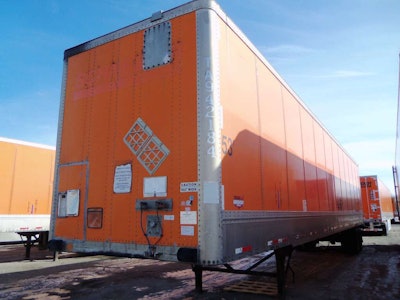 Net trailer orders, according to FTR, reached 20,000 units in April – a 4 percent slide from the month before but up 26 percent versus a year ago.
FTR Vice President of Commercial Vehicles Don Ake says fleets continue to place orders for delivery in the second half of this year with dealer orders also brisk for the month. Ake says there is growing optimism about freight levels as the year progresses and fleets are replacing old equipment, even adding some new units in anticipation of a stronger business environment.
"The trailer market held on to the strong production gains of March, which is a great sign for future sales," Ake says. "Orders were less than production for the second straight month, which means backlogs are easing down."
Dry van order activity was down marginally from April and refrigerated vans orders also eased off a bit, according to FTR.
Trailer orders have totaled 250,000 units for the past 12 months and backlogs fell 2 percent and are 16 percent below a year ago.
"The second quarter looks to be robust, based on April's production rates and the respectable backlog levels," Ake adds. "Orders will fall off in the summer, but 2017 will be a better year than expected."