CCJ's Indicators rounds up the latest reports on trucking business indicators on rates, freight, equipment, the economy and more.
—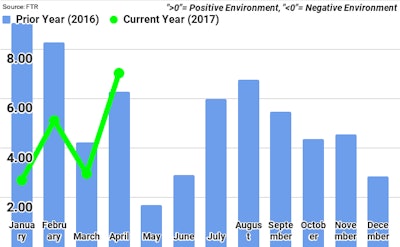 Conditions for carriers gain momentum: Market conditions for carriers, as measured by FTR's monthly Trucking Conditions Index, bounced upward in April, climbing more than 4 points from March. Such a shift signals conditions could put upward pressure on rates.
Increasing freight demand was a strong driver of the TCI's growth, FTR reports. The first quarter of 2017 registered the second strongest growth since the 2008-2009 recession. FTR projects freight demand to grow throughout the year.
"Overall, our expectation of improvements in freight demand for 2017 are coming to fruition. However, we are seeing a significant difference between the contract carriers, specifically those in more dedicated routes, and the spot market. Contract markets are showing limited load growth and weak pricing, but spot market indicators are telling a very different story," says FTR's Jonathan Starks, Chief Operating Officer.
"Importantly, truck capacity in the spot market is down during that same time. This has led to significant rate increases for spot moves, with the average rate up more than 10 percent on a year-over-year basis," he says. "We typically see spot markets move prior to the contract arena, so we would expect to see stronger contract pricing negotiations as we finish 2017 and head into 2018. The market is gaining strength, and conditions for carriers are showing significant improvements."
---
Spot market freight, rates shoot upward: Spot truckload freight availability in May reached its highest point since September 2015, increasing 7.3 percent compared to April and 63 percent year over year, reported DAT Solutions.
"We are leaving the freight recession in the rearview mirror," said Mark Montague, industry pricing analyst for DAT.
Van and reefer freight continued to grow in the month, driving load-to-truck ratios higher and, in turn, spurring rate increases. Flatbed freight, however, slipped slightly from April but saw solid year-over-year gains.
Van freight grew 16 percent from April and 86 percent from last May. Reefer freight climbed 19 percent from April and 87 percent from May 2016. Flatbed activity dipped 2.4 percent from April but grew 56 percent from the same month last year.