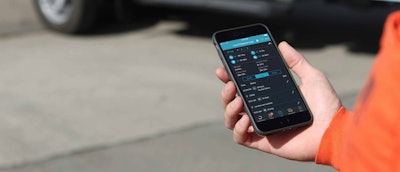 Five years ago, Fleetmatics, a Verizon company, released an AOBRD-compliant (395.15) version of its LogBook application for Android devices.
"We were one of first to use a mobile platform for the driver interface," said Todd Ewing, director of product management at Fleetmatics. Today the company announced LogBook for iOS with plans to release an ELD-compliant (395.16) version for both platforms before the December 18, 2017, enforcement deadline.
Fleetmatics LogBook manages drivers' HOS by combining data from the vehicle with status updates made in the mobile application by the driver. Drivers log into the mobile app and start driving while their HOS are logged automatically. Dispatchers and back-office teams get real-time HOS status, violation alerts, Driver Vehicle Inspection Reports (DVIR) and more through Fleetmatics' web-based interface.
"The ELD mandate is quickly approaching and drivers need a compliance solution that is simple to implement," said Todd Ewing, director of product management at Fleetmatics. "We manage the hardware installation and connection, allowing drivers to log in and see their real-time HOS status information and alerts, making compliance easier than ever."
Fleetmatics LogBook provides violations alerts – warning or notification of occurrence, access to timer icons, automatic driving status updates, vehicle info and three different views of the status log which include the mandatory DOT information. Feedback and support are also available through the application's interface.
By being part of Verizon, Ewing says Fleetmatics can offer significant discounts on tablets and data plans. Its customers have the option to deploy a full fleet management platform called Reveal that includes driver scorecards, asset tracking, dispatch data and other applications available through a web interface.