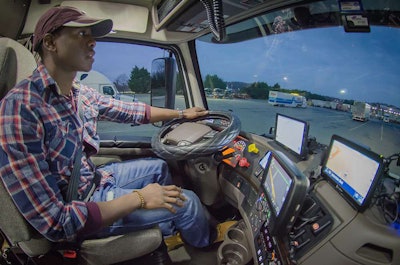 CCJ's Indicators rounds up the latest reports on trucking business indicators on rates, freight, equipment, the economy and more.
The driver turnover rate at U.S. truckload fleets rose slightly in the first quarter of 2017, though it remains at historically low levels. In the first three months of the year, the annualized turnover rate at large truckload fleets – those with annual revenues greater than $30 million – rose three percentage points to 74 percent.
ATA notes that's 15 points lower than the same quarter last year and a near-historic low.
"The slight uptick in turnover, despite weak freight volumes in the first quarter, may be indicative of a tightening in the driver market," said ATA Chief Economist Bob Costello. "The situation bears watching because if the freight economy picks up significantly, turnover will surely accelerate – as will concerns about the driver shortage."
The turnover rate at small truckload fleets rose two points to 66 percent, 22 points lower than the same time in 2016. The turnover rate at less-than-truckload carriers, typically very low, remained so, rising two points to just 10 percent.