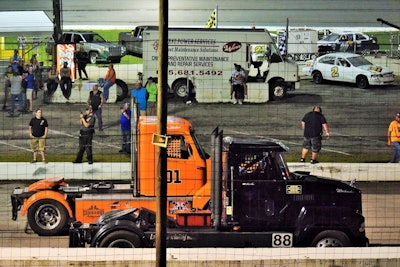 Ricky "Rude" Proffitt's stronghold on the Minimizer Bandit Big Rig Series has loosened after a recent surge by Tennessee-based Mack diesel tech "88 Mike" Morgan.
Morgan has won the last two of the series' races after Proffitt ran of a string of three consecutive wins before that. Proffitt still leads in the overall points standings approximately halfway through the 13-race season, but Morgan has tightened the gap in recent weeks.
This weekend, Morgan picked up his second win of the season at his de facto home track, Highland Rim Speedway in Greenbrier, Tenn., as Overdrive's Todd Dills reported earlier this week.
The Bandit Series will return to action next Saturday, July 15, at Hawkeye Downs Speedway in Cedar Rapids, Iowa, as they venture outside the South for the first time this season.