CCJ's Indicators rounds up the latest reports on trucking business indicators on rates, freight, equipment, the economy and more.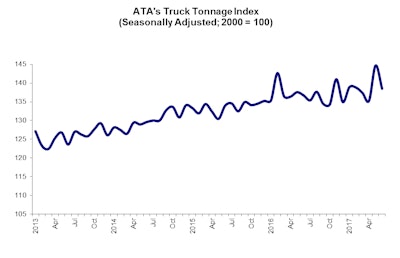 The amount of freight moved by the for-hire trucking industry in June, as measured by the American Trucking Associations' monthly Truck Tonnage Index, fell from May by 4.3 percent, according to ATA's most recent report.
Compared to last June, however, tonnage was up 1.3 percent.
ATA also upwardly revised May's gains from April to 6.9 percent.
"After such a large spike in May, it was not surprising to see the index give back some of those gains in June," said ATA Chief Economist Bob Costello. "However, looking back at the second quarter as a whole, tonnage was up 0.8 percent over the first quarter and 1.9 percent over the same quarter last year, so it was a solid three month period. June's slide does not change my belief that we will continue to see moderate, albeit at times choppy, growth in truck tonnage as the year continues," he said.