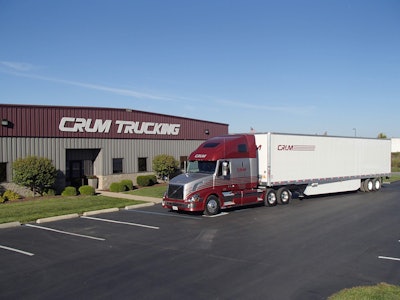 Vnomics Corp., provider of the True Fuel onboard fuel optimization system that combines real-time driver coaching and fuel efficiency insights, announced that Crum Trucking will be installing its product in its entire fleet of 138 tractors.
"We chose the True Fuel solution because we've always known that fuel efficiency is dependent on drivers' actions and True Fuel gives drivers and managers the insights they need to make changes," said Mike Bruno, logistics operations manager at Crum Trucking. "We realize that, ultimately, achieving maximum fuel efficiency depends on the driver and during our pilot we were able to pinpoint the areas with the greatest opportunities for improvement."
Crum Trucking was founded in 1994 and based in Batesville, Indiana, as an asset based dry van truckload carrier. The Vnomics True Fuel units will be installed in the company's Volvo tractors, the majority of which are equipped with Cummins engines.
Vnomics True Fuel is a stand-alone OEM-agnostic system that combines machine learning with real-time driver coaching to improve fuel efficiency and vehicle performance in the areas of speeding, idling and improper engine speed control.
"Our expectation is that Crum Trucking will be able to quickly and measurably improve fuel efficiency across its fleet by using True Fuel." said Andrew Markese, vice president of sales and marketing at Vnomics. "Based on our projections, if they eliminate even half the fuel waste identified during the pilot, the systems will pay for themselves in just five months."