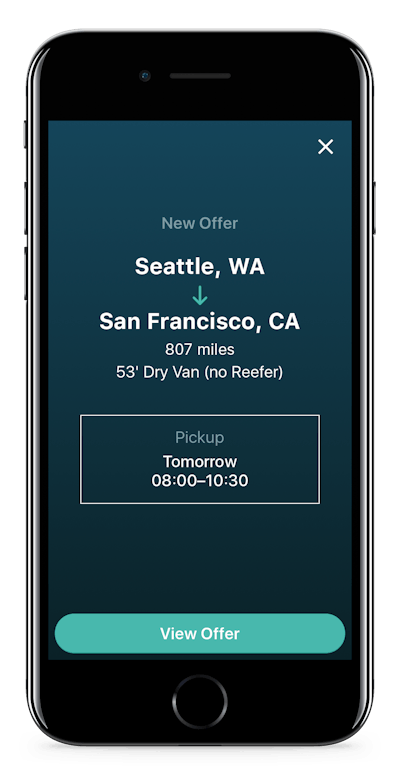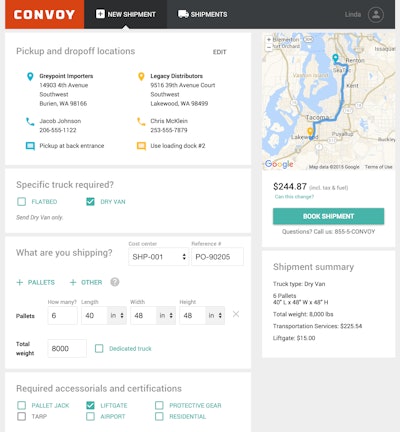 Convoy announced this week it has raised $62 million that the company has earmarked for the national expansion of its trucking marketplace, accelerating product development, and building a network of technology-connected trucks.
The Series B financing round was led by Y Combinator's Continuity Fund, who joins a list of existing investors that includes Microsoft boss Bill Gates, Salesforce CEO Marc Benioff, former Starbucks President Howard Behar and the founders & CEOs of Expedia, eBay, Instagram, and DropBox, among others.
Convoy CEO Dan Lewis credits the trust the digital freight broker has built with carriers, shippers and investors for the momentum. He hopes to further expand the company's platform to the East Coast by next year, giving the Seattle-based company nationwide coverage.
"But we're ready to go now," he says, noting the company would stick to its historical expansion method of adding regions and lanes that connect them. In less than two years, Convoy has grown its footprint from the Peugeot Sound-area, to the Pacific Northwest, to west of Rockies and is now pushing eastward. "Our focus has been on building density into a national footprint."
Through Convoy – technology news site Geekwire's 2017 Startup of The Year award winner – verified carriers have access to personalized job offers from 300-plus shippers, and free tools to manage their fleet and reduce overhead. Carriers that use Convoy's mobile app for the entire freight transaction, from accepting a load to sending the invoice, receive payment within 24 hours of delivery with zero fees.
The platform's shipping customers include Fortune 500 brands Unilever and Anheuser-Busch, as well as Niagara Bottling and Tenaris and its fleet force is comprised of a technology-connected network of approximately 10,000 trucking companies.
Lewis' system has been able to build a productive system in the markets they serve. He says over the July 4 holiday, Convoy's carriers were the No. 1 carrier for many of its shipper customers in that time frame.
"That was based just on being able to handle a surge that a lot of other companies couldn't handle," Lewis says, noting Convoy's ability to quickly find carriers who have capacity and want the loads.
Aaron Huff contributed to this report.