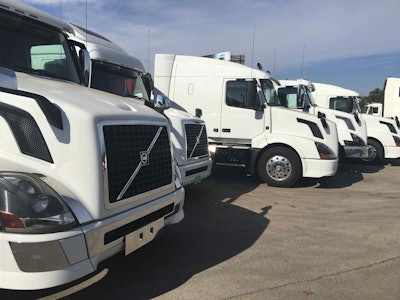 The needs of a given application are the most important factor in spec'ing a new truck, but unless you plan to drive it until its hauled into the scrapyard you won't be the only person to buy your tractor.
Brand affinity and segment demands all factor into the trucks fleets spec from their dealer and play a similar role on the secondary market.
"There are customers that prefer to stick with the brand that they have," says ACT Research Vice President Steve Tam, "but there is that segment that says, 'Make me a deal, and if it's good enough I'll switch.'"
But even if you spec with resale in mind, Tam advises fleets to spec for the truck's initial use rather than trying to read tea leaves in the used market three to five years later.
"It's certainly a good idea to keep the secondary market in mind, but you can't ignore your own needs," he says. "If you're on the fence, maybe the secondary market consideration would tip that decision – a 15-liter [engine] may be the way to go – a Cummins – and probably a manual transmission rather than an AMT."
"Aluminum wheels – and they have to be dual not single," J. D. Power Valuation Services Senior Analyst Chris Visser adds of specs that bring the most return to sellers on the used market, "a full aero package, horsepower in mid-400 range and 18 speed transmission is still the gold standard on the used market."
The longer a fleet holds on to a truck, the gap between what a particular spec can add to its value begins to close, especially if the warranty lapses.
"As trucks get older, that difference will diminish as condition factors come into play, along with maintenance records and mileage," he says. "If a truck has an existing warranty, that's a good selling point."
Tam says there is a growing recognition among used truck buyers that fuel economy can be important and traditional aerodynamic add-ons like cab extenders and fairings, Visser adds, have shown to be worth an extra $2,400 to a used truck, "if it has all the skirts and side extenders."
Shortly after the 2010 model year, many fleets migrated to smaller displacement engines in efforts to boost fuel economy and shed several hundred pounds over the steer axle, but Tam says those used engines are taking a backseat to large-bore power.
"On the secondary market, as long as [customers] have access to bigger bore engines, that's going to be their preference," he says.
For example, Visser says Detroit's DD13 engine is commanding about $3,000 less than a DD15 on the used market when spec'd in comparable 3-year-old Cascadias.
Regardless of bore size, Tam says Cummins engines – a premium at their initial spec – have maintained premium position in the used market.
"Whenever you have Cummins as an option, it tends to do better than the vertically integrated partner," he says, "[Preference] can be application specific, but I think the driver wants that engine so they are willing to pay for that engine."
Visser notes that Cummins's position as the preferred engine isn't undisputed and can vary significantly by make and model year.
"On a Freightliner, for example, [an ISX] is about $500 to $750 less than a DD15," he says. However, Visser notes there is a preference for Cummins power when truck prices and specs are comparable due to the comfort level buyers have with the performance of those engines.
"Cummins has shown their commitment to this market for a long time and the challenge for any new engine is that new and used truck buyers don't look for a brand-new design in terms of drive train," he says. "They look for tried and true."
Automated transmissions are beginning to seize chunks of new truck build rates and while Tam says there's not enough data to determine whether trucks with an AMT will command higher re-sale prices than their manual cousins, he says such a trend is unlikely.
"If history is any indication, the used truck buyer doesn't like change, even in this scenario," Tam says. "You've got guys today looking for pre-2000 equipment just because it doesn't have to have an ELD in it."
"I don't think they're going to take [AMTs] at a premium."
Visser disagrees, adding that the reliability of more modern AMTs, and the fact they have achieved standard position in many cases, have boosted their resale values.
"[Volvo's] I-Shift is pretty much the grandfather of all AMTs and is upwards of a $2,500 add [to a used truck's value]," he says. "[A Freightliner's] DT12 is about $2,500 add versus a 10 speed."
Eaton's UltraShift Plus, Visser says, adds "a few hundred dollars" in value.
"The used market is still catching up to the better reliability. The used truck buyer is slower to catch up to improvements," Visser says. "And some of the older AMTs are actually [price] deducts."