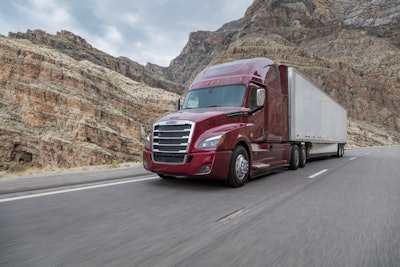 Freightliner Trucks announced an overhaul of the Team Run Smart website, an open online community that truck drivers can turn to for expertise on a variety of topics. Freightliner has enhanced the website for an improved user experience, organizing content into three categories:
Live Smart recognizes the challenges of the sedentary lifestyle and endless fast-food options that challenge drivers daily and is devoted to help drivers understand the importance of living and eating healthfully while on the road. "Driver health is a huge topic and top-of-mind for fleet customers," says Freightliner Marketing Segment Manager for Mike McHorse. "We are trying to source information specific to nutrition and exercise to help them pass physical exams. If you can't pass your physical, you can't drive your truck."
Business Smart is designed for company drivers who migrate to become owner-operators, this section provides information on compliance, regulations, bookkeeping, taxes and more from expert contributors.
Truck Smart provides information on increasing revenue and uptime through truck operation and maintenance. "We want to help owner-operators operate their trucks more efficiently," said McHorse, including tips on how to maximize the benefits of cruise control, the importance of monitoring tire pressure and proper maintenance procedures to avoid downtime.
McHorse said Team Run Smart is set to surpass the 50,000-member mark just five years after it launched.
New Cascadia build rates increase
After a slow ramp-up period in the first quarter of 2017, Freightliner soon will surpass 10,000 builds on the new Cascadia this year as customers transition orders to the new model.
McHorse said take rates for Detroit products on the new Cascadia also are increasing, with the DT12 automated manual transmission jumping from 68 percent on the classic Cascadia to 94 percent on the new Cascadia.
On the safety side, McHorse said the new Cascadia's Detroit Assurance 4.0 safety platform has a 59 percent take rate compared to 25 percent on the classic Cascadia. (Freightliner currently doesn't offer the Meritor Wabco OnGuard advanced driver assistance systems on the new Cascadia.)
Starting in July, Freightliner now offers a 116" BBC for both day cab and 72" raised-roof options in addition to the current 126" BBC day cab and 72" raised-roof cab configurations. It also offers a Cummins X15 engine and Eaton Advantage transmission, and McHorse said new options would be announced in September at the North American Commercial Vehicle Show in Atlanta.