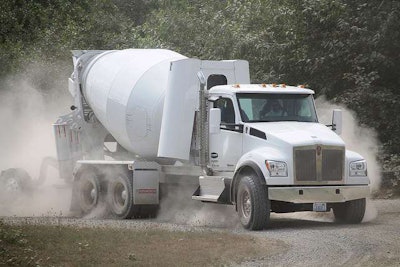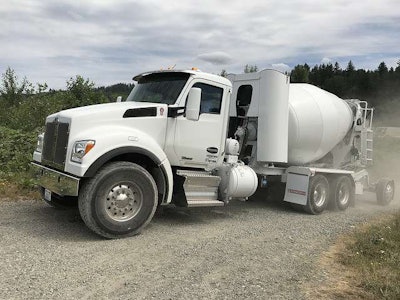 Kenworth knows that meeting government requirements can be a critical part of doing business.
For mixer customers needing to comply with federal bridge formulas and cleaner emissions, the truck maker now offers the 2018 T880S natural gas mixer.
The Cummins-Westport 8.9-liter ISL G Near Zero NOx engine offers quieter and cleaner performance with power that's comparable to a conventional diesel.
During a recent test drive near Seattle, Wash., the truck – even when its McNeilus 10.5-yard mixer was loaded down with 30,000 pounds of gravel – made easy work of hillside roads and off-road terrain in two separate test drives.
"They have a comparable performance as a diesel," said Kurt Swihart, Kenworth's marketing director.
Natural gas engines have been lauded for their quiet performance and impressive emissions. In a brochure outlining the benefits of its Near Zero engines, Cummins-Westport reports that its natural gas technology "improves air quality and lowers noise pollution."
The Cummins-Westport 8.9-liter compressed natural gas engine, while rated at 320 horsepower and 1,000 lb.-ft. of torque, delivers emissions that are 90 percent lower than the current EPA and California Air Resources Board (CARB) NOx limit of 0.2 g/bhp-hr, and also meet the 2017 EPA greenhouse gas (GHG) emissions requirements, according to Cummins Westport.
By comparison, a Kenworth 2018 T880S mixer equipped with a 10.8-liter MX-11 diesel engine churns out 430 horsepower and 1,650 lb.-ft. of torque. Yes, you can't argue the numbers, but its nat gas brethren still delivers where it counts.
And for some, that might be in metro areas where quieter and cleaner-burning trucks are the order of the day.
The truck I was driving was spec'd by building materials giant CalPortland, and its Allison 4500 six-speed automated manual transmission made driving easy.
Though Swihart explained that the truck was more a flat land spec, it still delivered impressive acceleration on and off-road.
The 2.1-meter wide cab, a popular feature in the T880 lineup, offers plenty of elbow room. Switches and gauges are all available at a quick glance. The broad view over the short hood makes it easy to see the road ahead and brings on confidence fast.
The truck responded well in tight turns during the off-road segment on the former grounds of the historic Weyerhaeuser lumber mill where Kenworth trucks went to work in the 1920s.
While hauling 30,000 pounds of gravel with this CNG mixer, it just doesn't feel like you're carrying much of a load. Taperleaf 20K suspension in the front and Hendrickson HMX460 46K in the rear made for a smooth ride over off-road bumps. Helping during the ride was Kenworth's proprietary GT702 highback seat with a soft DuraSupreme cover.
Of course, the set-forward front axle in the T880S has quickly proven to be a popular configuration for mixer customers that need to comply with federal bridge formulas.
"A large percentage of our orders are for the set-forward configuration," McNeilus Manufacturing Vice-president Tom Harris said in a Kenworth press release.
Filling up on CNG
Cummins-Westport ISL G Near Zero natural gas engines can run on either compressed natural gas (CNG) or liquefied natural gas (LNG). The engines can also run on renewable natural gas (RNG), which provides even an even deeper drop in emissions.
Swihart explained that filling up the CNG-equipped 2018 T880S mixer isn't complicated nor time-consuming. He said he filled it up from about a ¼ tank to full (or roughly 3,600 PSI) in about 15 minutes.
"It's not a long time," he said. "It's really very simple. Pull up to the pump and it's a single hose. It's got a nozzle on it. It's about two inches in diameter and it has a handle on the side. You line up the arrows and you put it on the fitting. It's kind of like an air fitting. It looks like an overgrown air fitting. You just turn the handle and that locks it on. You walk over and put your credit card in the machine, you tell it what pump you're on and away it goes. You do nothing past that and it just keeps pumping until you either turn it off or it fills up.
"Diesel's a little faster, but CNG's a lot cheaper. I bought 42 gallons of CNG—what they would call the diesel equivalent of CNG—and it was $93. So, it was like $2.29 a gallon," Swihart continued.
Natural gas prices vary, of course, depending on where you fill up. A CNG pump in Panama City, Fla. was advertising $1.99 per gas gallon equivalent (GGE) this week. CNG in Clearwater, Fla. is currently selling at $1.38 per GGE and in Fort Smith, Ark., CNG is priced at $1.09 per GGE, according to cngprices.com.
Whatever the price, natural gas engines are here to stay. In a press release this week, Cummins billed itself in the lead paragraph as "the leading independent manufacturer of diesel and natural gas engines, controls and emission solutions."
Kenworth uses driver input for design of 2018 T880S
Kenworth's latest addition to its popular T880 lineup, the T880S, offers another glimpse into why the company bills itself as 'The Driver's Truck."
Kevin Baney, Kenworth assistant general manager for sales and marketing, recalled how hundreds of drivers had helped the company shift its focus on cab design for the T880 line-up.
"We have always been driver focused. That's our slogan, 'The Driver's Truck,' so regardless of what trends are out there in terms of driver shortage and how fleets view it, we will always be focused on the driver just because when you go through the design process it's always been natural for us to do that," Baney said during a recent press conference at Kenworth's headquarters in Kirkland, Wash.
"When we developed that initial cab (for the T880) we had our pre-conceived ideas with cab width based on what the competition was, but it changed once we did that scaled cab so that a driver could get in it and they could change the width, the length and the seat position," Baney continued.
"We ran hundreds of drivers through that and checked to see what the distribution was and it came out the 2.1 (meter) width. We were thinking that it needed to be 2.3. So that's a testament, whether it's a 680 or 880, is why it's so popular with the drivers is that it's designed based on their feedback and input."
The T880S is offered with a set-forward front axle ranging from 14,600 to 22,800 pounds. The PACCAR 12.9-liter MX-13 engine is standard, but the truck can be spec'd with the 400-pound lighter 10.8-liter MX-11 or the new 8.9-liter Cummins Westport ISL G Near Zero natural gas engine.
Swihart says the 2.1-meter wide cab in the T880S has been popular with drivers.
"You have plenty of space," he says. "As a vocational truck driver you're in and out of the cab all day long, every day."
Keeping drivers closely in-tune with the instrument panel was also an important goal.
"The overall ergonomics of the cab: everything is easily within reach. You can see all the switches here, plus the virtual gauges," Swihart explains.
Kenworth believes that the Eaton UltraShift Plus 18-speed Automated Manual Transmission will continue to win over more drivers from manual transmissions, including those that weren't too impressed with earlier AMT designs.
"What we've seen in the vocational market over the last couple of years is really a shift from manual transmission to automated and automatic types of transmission technologies," Swihart says. "And really the AMT from Eaton has improved dramatically over the last several years and offers a lot of new features."