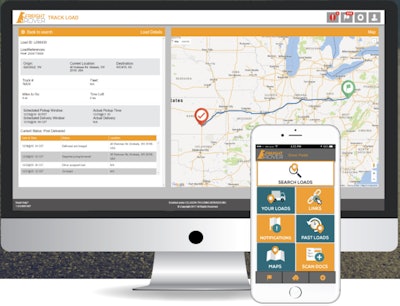 FreightRover, a freight exchange and freight management app used by shippers, brokers and carriers, announced integration with four new applications: MacroPoint, Transflo, SaferWatch, and TriumphPay.
All of the applications will be available through FreightRover's vendor marketplace.
FreightRover users can use MacroPoint's tracking and real-time analytics, Transflo's document indexing and repository, SaferWatch's safety management services, and TriumphPay's QuickPay options – all through a single connection point.
"FreightRover's platform both compliments and brings additional functionality to the user's existing processes, thanks to our connections with some of the top providers in the industry," says FreightRrover CEO Eric Meek.
FreightRover says its software and partnerships allow users to simplify freight management from load tendered to load delivered. Users who already have a MacroPoint, Transflo, or TriumphPay account can link their current account into FreightRover, and users who do not yet have an account are able to sign up through the FreightRover system.
All FreightRover users have access to real-time load tracking, full visibility to rates and appointment times, document scanning and retention, and ability to message each party to a specific load. Users also receive load status updates through geofencing, which restricts results based on the current location reported by GPS.
"FreightRover is not out to disrupt the industry. Instead, we are here to streamline it and make it more efficient for everyone," says Meek.
The freight exchange app provides shipping users the ability to build loads and set dynamic rules that automatically adjust the load's price and other details based on timing. Carriers utilize the rules engine to set alerts for loads that fit their needs.
Shipping users post to a select group of carriers, or the open market, and carriers are then able to select the loads that fit their needs.