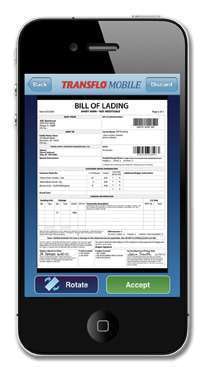 Transport Pro, a transportation management software provider based in Nashville, Tenn., announced an integrated scanning feature that uses the Transflo Mobile app from Pegasus TransTech.
The integration saves office personnel time by allowing drivers to scan and index required documentation to a specific load in Transport Pro.
Drivers can download the Transflo Mobile app on their iPhone or Android. Once the app is downloaded, drivers are prompted to enter their carrier code as well as some personal information.
Once the app registration is complete, drivers are ready to begin scanning documents and indexing them to the correct load in Transport Pro.
Transflo Mobile prompts drivers to take a photo of any required documentation using their phone's camera. The app directs drivers to crop and edit the document, if necessary, to ensure it is legible.
Once satisfied with the image, the app prompts drivers to label the document by selecting from a list of document types. The driver can upload and label as many documents as necessary.
Drivers are then prompted to enter the applicable load number that corresponds to the load ID in Transport Pro. The indexing process is then complete and the documents are attached to the correct load in Transport Pro.