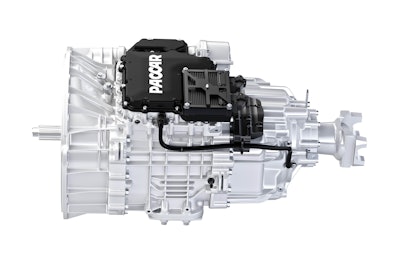 Paccar on Tuesday completed the rollout of the company's integrated powertrain with the debut of a 12-speed automated transmission. The march toward vehicle integration first began in 2010 with the North American introduction of Paccar's MX engine lineup. A 40k rear-axle followed last year, and a Paccar front axle will be available in October.
Paccar Vice President for Powertrain Landon Sproull says the transmission is a clean sheet design, developed over three years in conjunction with Eaton to work with MX engines and Paccar axles.
Currently, Sproull says 70 percent of all on-highway Paccar trucks are spec'd with AMTs, but he notes the new Paccar offering was purpose-built as an automated transmission and is not converted from a manual.
"We wanted to specifically design a transmission that would meet the needs of the vehicle," he adds.
"It was never intended to be a manual," adds Paccar Technical Center Director of Advanced Technology Carl Hergart.
Mike Dozier, Kenworth general manager and Paccar vice president, expects automated transmission sales to hit 90 percent by 2020 for both companies – a 30 percent surge from 2016.
Kyle Quinn, Peterbilt general manager and Paccar senior vice president, says the integrated Paccar powertrain offers a total vehicle weight savings of 399 pounds – with 105 pounds shaved from the transmission, 144 pounds from the engine and 150 pounds from the axle.
The new powertrain will be standard on the Peterbilt Model 579 Epiq and Kenworth T680 Advantage, and will be available as an option on other on-highway models. At launch, it will be available matched only to the MX-13 engine.
Designed for line-haul applications up to 110,000 lbs. Gross Vehicle Weight, the Paccar Automated Transmission is available for engine ratings up to 510 HP and 1,850 lb.-ft. of torque and has undergone more than 2 million miles on on-road testing with Paccar fleet partners.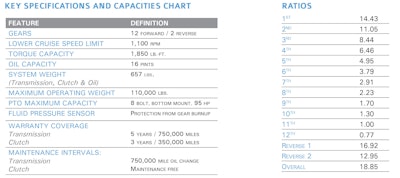 The transmission includes a differentiated fluid pressure detection system that protects the gears and shafts from low fluid conditions. A maintenance-free clutch and an internally routed electrical system improve durability, and Paccar's new column-mounted shifter puts gear selection and engine brake controls at the driver's fingertips for better ergonomics and improved performance.
The unit's 750,000- mile oil change interval is the longest available for line-haul applications.
The transmission will be built as part of the Eaton Cummins Automated Transmission Technologies joint venture in San Luis Potosi, Mexico.