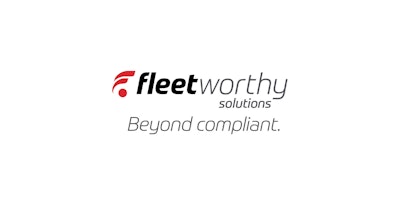 ITS Compliance, a provider of cloud-based compliance services and solutions to the transportation industry, announced it has rebranded to Fleetworthy Solutions. The company says the new brand reflects its evolution over three decades of providing compliance solutions that exceed state and federal standards through the combination of data, technology and experienced people.
"The new Fleetworthy brand reflects the company's goal for the transportation industry to go 'Beyond Compliant,'" said Rob Getz, Fleetworthy president and CEO. "Recent customer and industry research, along with our own experience over the past 34 years point to a fundamental truth: for companies who want to excel in transportation, meeting minimum compliance standards isn't enough. It's all about aiming higher."
Fleetworthy Solutions says it has a proprietary approach called "Intelligent Compliance" that integrates client service, advanced technologies and industry expertise to provide fleets with the visibility and control it takes to streamline processes, reduce risk and improve profitability.
"Compliance is more complicated than most people realize, and at Fleetworthy we believe it is time to raise the importance of compliance to a higher level," said Getz. "Technology alone won't make the roads safer. Technology is just a tool. Going above and beyond compliance requires people with industry expertise and the knowledge to analyze data and gain insight from it to make better decisions and change processes to truly make the roads safer. Our Intelligent Compliance platform brings all three pieces together to provide visibility into data and provide the ability to interact with it."
Fleetworthy solutions measure, monitor and manage compliance levels for driver and fleet safety, licensing and permitting and fuel tax reconciliation. Comply 2.0, Fleetworthy's Intelligent Compliance platform, provides fleets with visibility and control over processes to cover gaps and reduce risk.
Comply 2.0's dashboard and redesign optimize customer data into easily manageable panels, or "smart tiles" that represent key data, such as Driver Qualification, Driver-Vehicle Inspection Report (DVIR), Hours of Service (HOS) and exempt logs.