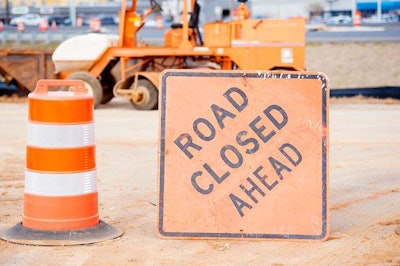 A group representing asphalt producers and haulers is seeking two hours-of-service exemptions for drivers hauling an asphalt pavement mixture, related materials and equipment.
The National Asphalt Pavement Association (NAPA) has requested an exemption to allow drivers to use on-duty waiting time to satisfy the 30-minute rest break requirement and an exemption to allow the drivers to use the short-haul record-of-duty status exemption but return to their work-reporting location within 14 hours instead of the usual 12 hours.
NAPA says asphalt is a "very perishable" product that hardens within two hours of being loaded into a truck, and drivers only typically drive for approximately one-third of their work day. Other time is spent waiting to load or unload, doing paperwork or cleaning their trucks after each load, the group says.
Additionally, NAPA says some of the drivers are required to be on-duty longer than 12 hours per day and aren't eligible for the short-haul exemption. The group says because the drivers are only driving a few hours each day, they do not face the same fatigue factors as long-haul truckers.
The exemption request is open to public comment, which can be made here on or before Oct. 10.
Editor's note: The original version of the story stated the exemption request only applied to NAPA members. The request, if granted, would apply to any operator hauling asphalt pavement mixtures and performing related driving tasks.