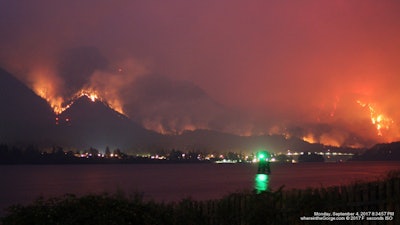 A time lapse of Oregon's #EagleCreekfire from Stevenson, Wash., from 5 p.m. Sept. 4 to 5 a.m. Sept. 5. https://t.co/No5tBo4jHp pic.twitter.com/doV0XCGFK2

— The Oregonian (@Oregonian) September 5, 2017
Wildfires in the Pacific Northwest have prompted the state officials in Oregon and Washington to issue emergency declarations and close some highways in the states.
Oregon Gov. Kate Brown and Washington Gov. Jay Inslee have declared states of emergency for their respective states, triggering the suspension of certain hours-of-service regulations for truckers providing emergency relief or essential supplies to the states. The Federal Motor Carrier Safety Administration recently extended Oregon's declaration, originally issued Aug. 2, through Oct. 31.
As a result of the wildfires, the Oregon Department of Transportation has closed a section of I-84, and some state highways in both Oregon and Washington have been closed as well. I-84 is closed in both directions between milemarker 17 in Troutdale and milemarker 62 at Hood River, according to the Oregon DOT. Eastbound trucks are asked to use U.S. 26 to Oregon 216 to U.S. 197 as an alternate route, and westbound trucks should use the opposite – U.S. 197 to Oregon 216 to U.S. 26.
In Washington state, State Route 410 is closed in both directions from milemarker 65 to milemarker 89. A detour is available on U.S. 12 to State Route 123. Additionally, State Route 14 is closed to truck traffic in both directions from milemarker 19 to milemarker 84, according to the Washington State DOT.
According to a report from The Oregonian, two separate fires have merged and are now burning nearly 31,000 acres, and shifting winds could push the fires farther east.
I-84 now closed in the Columbia River Gorge because of fire threat. WB traffic must exit at exit 62, EB traffic at exit 63. pic.twitter.com/yxvquH5JnP

— Oregon DOT (@OregonDOT) September 5, 2017
Here's a few shots of the #NorsePeakFire that will keep SR 410 east of Chinook Pass closed 24/7 at least through Monday night. pic.twitter.com/VFHLEgyHTs

— Washington State DOT (@wsdot) September 1, 2017
Webcam set up in the Gorge is capturing insane images right now of the #EagleCreekFire #Oregon #Wildfire https://t.co/NDdwfddPdb pic.twitter.com/fXnvVNZl8c

— John Hendricks (@JohnKPTV) September 5, 2017