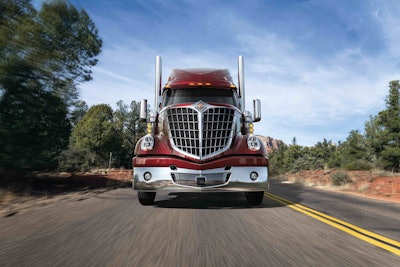 Trucking is steeped in legacy and tradition, with many modern tractor designs still drawing inspiration from truck models decades old.
International announced Monday several enhancements to its LoneStar, one of the most visually distinct trucks on the highway and a truck Navistar Vice President of Product Development Dave Majors calls "an advanced classic."
For next model year, the company has planned several interior updates for its flagship tractor designed to maximize driver productivity while improving ergonomics and visibility, but Majors is fast to point out that the truck's unique grille, D-Series inspired fender flares and chrome-rich customizable exterior platform will remain.
"We couldn't touch that grille. It's such a statement coming down the road," says Majors, who was a member of the team that designed the original D40-inspired LoneStar a decade ago. "You don't want to just show up, you want to arrive … and you want to arrive in style. It's like arriving in a Porsche. It's jut a very distinctive look."
As the company did with the design of its new RH and LT series tractors, Majors says Navistar sought driver input on design improvements. LoneStar's original design targeted owner-operators but Majors says many fleets have embraced the truck as a reward for top drivers, making drivability and comfort top priorities.
An all-new more robust HVAC system has been tested at 0°F and LoneStar's best-in-class Max defrost cleared 100 percent of the windshield in under 30 minutes from start-up. Air vents are also fully closable.
The doors, side glass and cab mirrors have all been redesigned to enhance visibility and ultimately help reduce neck strain and fatigue over the long haul. Majors says overall visibility has been improved with a driver's field of view increasing by 20 inches closer to the truck.
A door that is twice a stiff as previous models and improved seal compression makes the cab quieter. The door opens wider for easier entry and exit, and updated doorhandles feature a larger pocket and are color matched to the mirrors.
"[Drivers] really wanted a deeper map pocket," Majors says, adding the new LoneStar door also a features 300 pound rated grab-handle.
Pedestal mirrors are pushed forward for better visibility and a lightweight design shaves off 7 pounds, leading to a .5 percent improvement in fuel economy.
The instrument cluster offers multiple customizable selective gauges in the driver information display. BlueTooth has been integrated into the pillar with controls on the steering wheel. Steering wheel buttons and rocker switches have been laser-etched and backlit for better nighttime visibility. Large rocker switches were designed big enough to use with gloves on.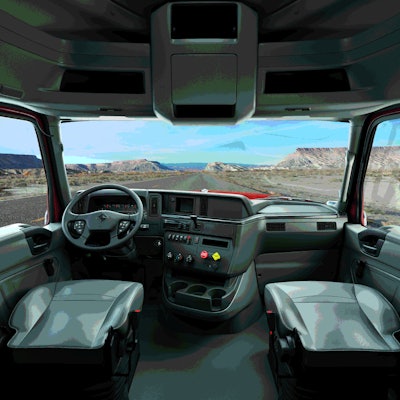 The fuse panel on top of the dash on the passenger side features a flat top, giving drivers a place to write. It's also designed with an integrated gutter to channel away any fluids they may be spilled before they reach the fuse panel.
The new LoneStar will feature the Cummins X15 under its distinctive hood. Combining that engine with the truck's contoured hood, fenders and new aerodynamic pedestal mirrors, Navistar says the new LoneStar is up to 3 percent more fuel efficient than the previous generation. Navistar's A26 engine is not available for LoneStar.
LoneStar will also get Cummins' new single-canister aftertreatment system that is 60 percent smaller, up to 100 pounds lighter and simplified for quicker servicing.
Updated cab wiring includes all-new harnessing and an in-cab power distribution module that is inside the truck and away from the elements. All key service points under the hood, inside the cab and around the vehicle are ergonomically designed for easier access and servicing.
LoneStar comes with Bendix Wingman Advanced Collision Mitigation system standard and is available with the optional Bendix Wingman Fusion. Additional safety features include improved side visibility and RollTek seats.
Every LoneStar can be equipped as an option with OnCommand Connection and Over-the-air (OTA) programming. OTA, available through the nine-pin International Link device, enables drivers or fleet managers to utilize a mobile interface to initiate authorized engine programming at the customer's facility over a safe, secure Wi-Fi Connection.
The LoneStar is available in day cab; 56 inch low- and high-rise sleeper; 73 inch high-rise sleeper and 73 inch sky-rise sleeper. The truck is now available for order and expected to be available by December.