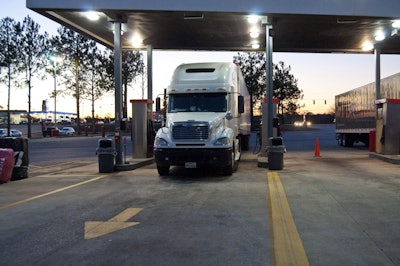 In the first full week after Hurricane Harvey made landfall on the Texas Gulf Coast, diesel fuel prices skyrocketed in most regions of the U.S., especially in some major metro areas around the country.
Diesel prices increased by an average of 15.3 cents across the nation during the week to an average of $2.758 per gallon, according to the Department of Energy's weekly report.
The Lower Atlantic region saw prices jump 19.7 cents during the time period, which was the most significant increase in the U.S. This region includes Florida, Georgia, North Carolina, South Carolina, Virginia and West Virginia. The Gulf Coast region – consisting of Alabama, Arkansas, Louisiana, Mississippi, New Mexico and Texas – saw the next highest increase of 18.7 cents during the week.
Dallas topped the list of cities that saw significant diesel price jumps. Its prices soared to $2.642 per gallon, a 30.7-cent increase over the previous week, according to ProMiles' Chris Lee. Other cities that saw major impacts, per ProMiles' numbers, include Charlotte, N.C., Kansas City, Mo., and Orlando, Fla.
The DOE's weekly report shows California with the most expensive diesel in the U.S. by a large margin at $3.135 per gallon, followed by the West Coast less California at $2.931 per gallon.
The cheapest fuel can be found in the Gulf Coast region at $2.615 per gallon, followed by the Midwest region at $2.707 per gallon.
Prices in other regions, according to the DOE, are:
Central Atlantic – $2.886
New England – $2.723
Lower Atlantic – $2.725
Rocky Mountain – $2.798
ProMiles' numbers during the week had diesel prices increasing by 13.3 cents to $2.702 per gallon nationwide.
According to ProMiles' Fuel Surcharge Index, the most expensive diesel can be found in California at $3.104 per gallon, and the cheapest can be found in the Gulf Coast region at $2.581 per gallon.