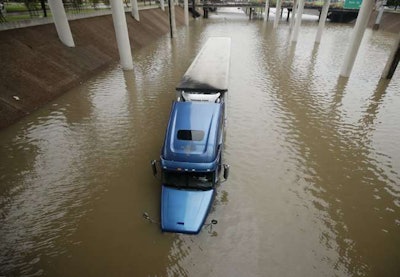 Trucking freight dynamics will shift, perhaps dramatically, in the coming months as recovery and rebuilding efforts in Texas and Florida take shape following massive blows from hurricanes Harvey and Irma. Such a shift will challenge the trucking industry's capacity, particularly for the flatbed segment, and will likely drive up rates both on the spot market and contract market.
That was the message from a panel of carrier, shipper and economic experts who spoke in a session at the FTR Conference in Indianapolis on Wednesday. Panelists included John Larkin, managing director of Stifel; Annette Sandberg, former administrator of the Federal Motor Carrier Safety Administration and current head of compliance consulting firm TransSafe; Steve Wutke, VP of sales at Prime Inc.; Ron Guzzi, transportation manager for The Home Depot; and Meredith Neizer of third-party logistics provider Armada.
Hurricane recovery efforts will increase freight demand, which will pull trucks out of their normal cycle. That shift in freight patterns combined with the crimp of productivity likely associated with the coming electronic logging device mandate deadline could prompt a capacity crisis.
"2018 is gonna be a really nasty year" for trucking capacity, said economist Noel Perry of FTR and Truckstop.com. Perry moderated the hour-long panel. He predicts a major capacity crunch, due to the impacts of the storms and adoption of electronic logging devices, to land sometime between March and July.
Data from Truckstop.com already shows a flux of inbound loads to the affected areas, says Perry, effectively pulling those trucks out of their normal duty cycle.
Looking farther out relative to rebuilding efforts, carriers and truckers will be enticed by "juicy rates," says Larkin, that come with relief loads and rebuilding loads. A recent rebound in manufacturing loads have already strained flatbed capacity, he says, but flatbed demand will jump in the coming months as rebuilding gains steam in Texas and Florida. "There are going to be large quantities of plywood, chips and board, roofing shingles. Where's that equipment going to come from? What's that going to do to spot market rates and contract market rates?"
Millions of vehicles were also affected by the storms, which will prompt greater demand for car haulers, Larkin adds. "The net effect of all of this is that it's going to start to look a little like 2014," he said, referencing that year's extreme winter weather's months-long impact on the supply chain. "The question then becomes how quickly does the ELD [mandate] have an impact."
Wutke says Prime has been running ELDs for five years. Carriers not running ELDs will lose "anywhere between four and seven percent of productivity," he says. "I can tell you that."
Only about 40 percent of the industry has adopted ELDs, says Perry. He predicts an industry-wide average productivity loss of 2.5 percent.
The spot market, Perry says, is already at its tightest point since Truckstop.com began measuring in 2013. "The spot market is getting scary. Things are getting very tight," he says.
Tight capacity usually drives rates higher, particularly on the spot market.