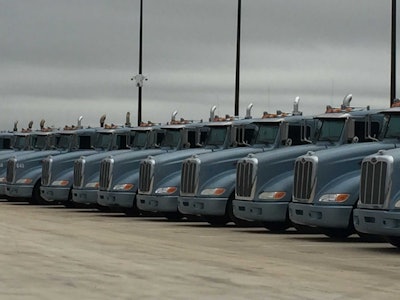 Despite their recent 18-month slump, Class 8 truck orders are forecasted by research firm FTR to jump to 247,000 this year and upwards of 300,000 in 2018 — a healthy rebound from lackluster orders seen in late 2015 and through all of 2016.
Eric Starks, CEO and Chairman of FTR, offered his company's forecast in a session Wednesday at the annual FTR Conference in Indianapolis. In addition to climbing orders this year and next, Starks predicts truck orders to remain stable over the next few years, projecting them to hover around 280,000 in 2019, 2020 and 2021.
Numbers have trended above expectations this year, says Starks, and the prime order season — usually seen in October through December — still remains. FTR bases its forecast on a wide range of metrics, including consumer spending, freight movement, manufacturing output, business spending, inventory levels, housing starts and more.
Though some continue to lag, such as inventory-to-sales ratios and business spending, other factors point to modest and continued growth. Consumer spending, for instance, has steadily climbed since the 2008-2009 recession. Manufacturing output has seen consistent growth in the last six months and spot market metrics reveal an ever-tightening environment.
FTR also recently developed a new Class 8 order predictor, based on spot market data from Truckstop.com, and it has become a fairly reliable tool in predicting Class 8 truck orders, Starks said. "The estimator predicts big growth over the next few months," he says.